We're delighted that Alice Hart has been awarded a CIFE College prize for her outstanding contribution to Duff Miller College.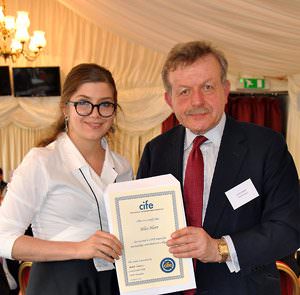 Alice (pictured receiving her prize from CIFE President Lord Lexden) came to Duff Miller to study Biology, Chemistry and Religious Studies to A-level and left with A*A*A* in those subjects. She also achieved an A grade in AS-level Psychology. She had a fantastic set of GCSE grades upon arrival and was a pleasure to teach throughout her time with us.
Her attitude to her studies was always impressive and her teachers always commented about her focus, determination and ability to achieve A* grades in all subjects. She deservedly earned a place at UCL to read Neuroscience, given her commitment to her studies and exemplary manner at all times. Alice is a terrifically bright and capable young woman.