Last revised August 2017.
The Personal Statement is the only part of the UCAS application form which gives you a chance to say something about yourself, and at the same time make a positive impression. It is vital to get it right and this guide explains how to put a good UCAS Personal Statement together. As our advice article Six Top Tips for an outstanding UCAS form explains, your Personal Statement may well be the deciding factor in whether you get an offer.
You'll find a lot of examples of 'best' UCAS Personal Statements online. While it can help to look at what other people have written, don't rely too much on the examples people have posted. For one thing, many of them are less effective than their authors think, but also you might find yourself imitating something you've seen. That makes it more likely that you won't develop an 'authentic voice' of your own in your Statement (see later for why this is important), and at worst you may find yourself actually copying bits. UCAS use software to detect copying and will penalise you for it!
Tackle the UCAS Personal Statement in stages
Getting started can be tough, but if you approach the task as a series of stages, you will find it easier. Get started early so that you can give the process the time it will need. You'll probably find that you need to come back to the task over several sessions. UCAS advise you to start a month before you submit the application. We agree, and even earlier is better. Starting before the summer holidays is ideal: it gives you time to do all the necessary thinking and to beef up your cv if you need to. Don't leave the UCAS Personal Statement to the last minute!
You'll fill in your UCAS Form online, UCAS online provide a personal statement worksheet and personal statement tool, but they're just worksheets with headings. We think it is better to start off by working off-line so that you don't feel under time pressure and can cut and paste as much as you want. You can paste the results into UCAS online later.
Here are the stages to follow to put a great UCAS Personal Statement together
Know the admissions selection criteria for your course
List everything that might go into the Statement.
Decide what to include in your Personal Statement
Sort out the order for your points
Decide on style and supporting detail
Write your first draft
Each stage is described in detail in the sections below. Just click the + to expand a section.
Very few people get the UCAS Personal Statement right first time. If you find yourself sweating blood over it you will be in good company, but don't skimp on the effort. You will be lucky to get away with rewriting it only twice.
Good luck!
For more about the UCAS Form and Personal Statement in particular, visit the UCAS website.
Our Advice page links to more cife articles.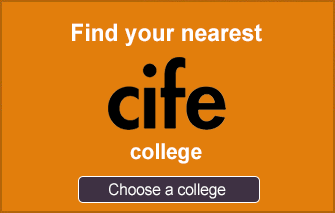 cife college results show high added value
Related article