Every month we feature the story of a CIFE student; highlighting the wide range of backgrounds of CIFE sixth form college students. The key thing that CIFE students share is the desire for the best possible education to help them achieve their goals.
May 2019 - Chelsea Independent College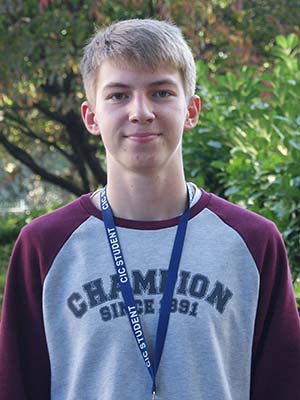 A-Level student Bogdan Berlov joined Chelsea Independent College this academic year from Kazakhstan to study A-Level Economics, Mathematics, Further Mathematics and Physics, a reflection of his great passion for both numbers and science.
Not only is Bogdan a brilliant mathematician scoring highly in any problem-solving challenge, he is also a passionate and successful dancer. Along with his studies, he very much enjoys dancing: "I find the contrast between science and dancing incredible and useful at the same time. While dancing I have the opportunity to 'switch off' and relax. This way, it is very easy to combine the two; it is something I love." Bogdan has attended several international competitions and workshops worldwide, including NBA Dance Battle in Paris in April 2018 and a dance festival in Kiev in January 2019 where he competed with nearly 200 dancers and finished in second place.
Joining CIC and meeting our specialist teachers has further developed Bogdan's passion for Economics. He sees his future an economics degree with a focus on marketing and business development.
April 2019 - Bosworth Independent College
Freya is in Year 11, taking GCSE exams this summer. In addition to being a popular and dynamic student, Freya throws herself into extra-curricular activities, sharing these with her parents and brother.
Freya has developed the Green Code for Bosworth, to promote environmentally-friendly procedures within the College. On 23rd March 2109, she was featured on the BBC's Blue Planet 2 Live Newsfeed with her family. Her enthusiasm for plastic-free living is compelling.
Freya is equally impassioned when it comes to dance. She was chosen from dancers throughout the whole of the UK to perform at the Imperial Society of Teachers of Dancing (ISTD) Bursary Awards. She had won in the Senior Classical Greek Dance category in the national Ruby Ginner Awards and because of this was selected to perform at the bursary awards. She was required to submit a personal statement on how dance has shaped her life and how she plans to implement it in her future.
Alongside her clear delight in performing at this prestigious event, Freya was thrilled to be given a bursary to help finance her dance training. She told us, "It was an honour to be selected and an amazing day where I got to meet other amazing dancers, teachers and industry workers.
March 2019 - Collingham Independent College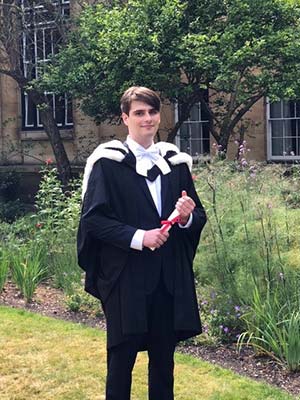 Willem Nelis joined Collingham Sixth Form College from a West London day school. He felt that the small classes and tutorial style teaching methods would suit his learning profile and would enable him to push himself academically.
Willem spent two great years at Collingham and was awarded the college prize for Humanities. His special area of interest is military history, and the role of war in history. The A level History specification allows students to do an independent piece of coursework and this enabled Willem to really indulge his passions. He produced an outstanding piece examining the extent to which the development of aircraft was the most important change in military technology in the period dating from 1845 to 1991.
Willem left Collingham with an A* in History, A in Geography and A in Religious Studies. He went on to read History at Christ's College Cambridge.
February 2019 - Westminster Tutors
Ellie Eden joined Westminster Tutors from a girls' day school in London. She had achieved excellent GCSE grades but wanted to take her A levels in a more mature, collegiate environment.
With a love of animals and a keen interest in conservation, Ellie is taking A levels in Biology and Chemistry. To give her additional stretch, her Geography teacher elected to deliver the Geography Pre-U instead of the A level, and between them they devised a unique fieldwork project relating to rhino conservation in South Africa, for which she collected data while volunteering for six weeks over summer. In contrast, Ellie reports that fellow students from her former school had a standardised fieldwork project studying pond algae in the Serpentine ...
Apart from gaining an extraordinary range of work experience, from national parks in the US, to the ZSL/London Zoo, to South Africa, Ellie has in recent months really taken a step out of her comfort zone, sharing the position of Head Girl at Westminster Tutors, a leadership role tasked with organising events and bringing together our diverse student body. We expect Ellie to continue to flourish as she looks forward to studying Conservation Biology and Ecology at a top university next year.
January 2019 - Ashbourne College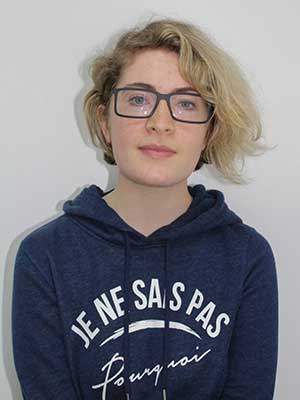 For the academic years 2016/17 and 2017/18, Charli Eglinton was a music scholarship student, being awarded a 40% scholarship for her outstanding academic performance and talent. She left Ashbourne Independent Sixth Form College with 3 A grades in Music, Film Studies and English Literature. She did not take up a place at university because she could not identify a course that resonated with her many creative interests in writing, film production and musicals. At the time of writing she is very, very excited about her new job as an assistant in a film production company.
Charli advises that her initial anxiety about taking a place at a 'posh' private college was soon overcome because of the ease with which she made friends as well as the stimulation and enthusiasm of her teachers. She grew in confidence because of the grown-up approach to education found at Ashbourne which led to her embarking on her current non-traditional career path.