Here are a selection of stories about past CIFE students; highlighting the wide range of backgrounds of CIFE sixth form college students. The key thing that CIFE students share is the desire for the best possible education to help them achieve their goals.
Ashbourne A level college, London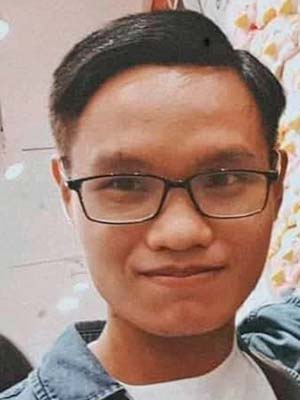 Quang Huy Le joined Ashbourne College in January 2019 on a full scholarship. It was a tough decision for him to leave Vietnam and his family to come and study in the UK but he was persuaded that he had the potential and resilience to succeed.
After only 18 months at the college, Quang Huy achieved an outstanding A*A*A*A in Mathematics, Further Mathematics, Biology and Chemistry.
He embraced Ashbourne life with energy and enthusiasm and was hugely ambitious applying to both Cambridge and MIT. His hard work and determination were justly rewarded with a place to read Natural Sciences at the University of Cambridge. His passion and aspiration to promote science learning and development in Asia, particularly in Vietnam, also helped him secure a full scholarship for his degree course fees from the competitive Jardine Foundation.
Rochester Independent College, Rochester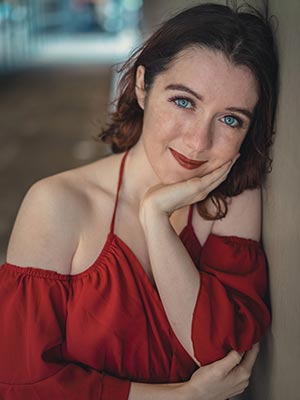 Anna McGovern joined Rochester Independent College in November 2017 on the one-year GCSE course and then moved into the sixth form for a two-year A level course, studying English Literature, Film Studies and Sociology. While at the College Anna balanced her work commitments with an impressively varied range of social action activities, representing young people and engaging with important political and social issues.
Anna is a Former Chair of the Medway Youth Council and hosted their 2019 Annual Conference "Climate Change: A Real Threat To Our Future!". Anna is member of the Duke of Cambridge's 'Royal Foundation Cyberbullying Taskforce' supporting their #StopSpeakSupport campaign to end online bullying. Anna wrote the foreword of the NSPCC's 'Net Aware' report about child online safety, has spoken in Parliament about Childline's #AreYouThere campaign regarding youth mental health provision and participated in the Independent Inquiry into Child Sexual Abuse. She was recognised by the NSPCC as their 'Outstanding Young Volunteer of the Year for London and the South East' and thanked in a letter from Teresa May for her "remarkable work supporting the charity and improving the lives of vulnerable children across the UK."
After finishing her A levels, Anna was offered a position as Research and Communications Assistant to Lord Waverley at the House of Lords. She started at Queen Mary University studying English in September 2020 and, continuing a tradition of Rochester Independent College employing its former students in different roles, is also working part-time in our boarding, organising student events and activities.
LSI Independent College, London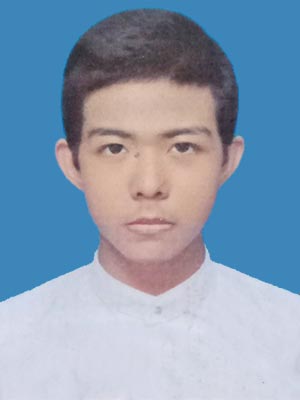 As well as Yee Wai Yan Phyo being an excellent student throughout his time at LSI, Phyo has risen to the challenge of fully engaging in online learning since the physical closure of the College because of the coronavirus crisis.
Phyo joined LSI college from Myanmar in 2018 to study a two year programme of A Levels, hoping to study Medicine. He has been a great asset to the college, always an engaging, determined and positive student. His Maths teacher claims "it has been a pleasure to teach Phyo" because he is "keen to learn. In spite of his ability there is no arrogance to him, in fact he is quite self effacing. He has a good sense of humour and is always willing to help fellow students." Phyo's Chemistry teacher claims he "is an excellent student, keen, motivated and hardworking. He is a positive and enthusiastic happy person. I am sure he will be a great success in his university studies. He should be very proud of what he has achieved." Phyo's Biology teacher notes "At all times he is very courteous and respective. He is popular with his classmates. He is good natured and always cheerful. I rarely see him without a smile on his face." Phyo has overcome the challenges faced by many overseas students in improving their command of English, and has fully adapted to life in Britain. We are very confident that he will enjoy great success this summer and move forward towards a rewarding degree course.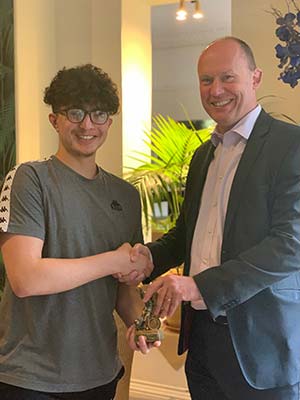 Hamza Khan is in the upper sixth studying A level Biology, Chemistry and English Literature at MPW Birmingham. He aspires to become a dentist and continues to make very good academic progress. Hamza is student of the month due to the leadership skills he exhibits and the kind and supportive way that he interacts with those around him.
He is understated in the way he goes about things but always leads by example. Hamza displays a high degree of integrity in his conduct and appears to possess the ethical high standards that an aspiring dentist should possess.
Away from his studies Hamza has a keen sense of citizenship and regularly undertakes voluntary work supporting vulnerable members of his local community. Hamza is also captain of the college football team and under his stewardship the team displays a sense of fair-play whilst remaining tenacious and competitive. Results matter but so does your character!
David Game College, London
Ogulsuray Hydyrova (Suray) has been featured as student of the month because she has demonstrated great academic achievement, resilience and focus. The grades she has achieved both at GCSE and AS level have been outstanding against a backdrop of challenging circumstances.
Suray joined David Game College in 2017 having achieved 4 GCSEs already through self-study. She went on complete an additional 6 GCSEs in one year at David Game for which she gained all A* and A grades. She is now in her second year of A level after great success in year 12 having achieved 4 A grades for her AS exams. Students do not have to take AS, but Suray chose to do them to add to her qualifications profile. Suray is applying for Medicine this year, inspired by the medical professionals that have helped her mother over the last few years. She has managed to fit in some very interesting work experience to support her application. She has been an active member of the medical programme that runs alongside her A levels. When times are tough Suray works relentlessly and brings enthusiasm and energy to her classes. Suray is indeed a very impressive student who we hope will make an outstanding medical professional in the future.
Cambridge Tutors College, London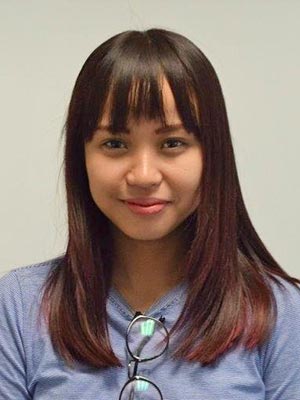 Cindy Sweet came to CTC from a remote village in Vietnam to study A levels. Her family could not afford any fees. She was awarded a CTC Scholarship of 100% and achieved such excellent results that she was awarded the Lester B. Pearson International Scholarship for 2019.
CTC has had a long working relationship with the University of Toronto, one of the best universities in Canada based in the cosmopolitan city of Toronto.
The Lester B. Pearson International Scholarship was created to bring a small number of exceptional students from around the world to study at the University of Toronto. With over 1,600 nominations from schools all across the globe, the selection process is highly competitive. The overall excellence of the nominees who apply make the task of selecting only 37 recipients very challenging. We were so pleased when Cindy was one of the 37! In addition to the wide range of academic and co-curricular opportunities the University has to offer, Pearson Scholars become part of a unique cohort, with access to specially enriched programming and select opportunities. All of Cindy's tuition and incidental fees for completion of a first undergraduate degree, up to four academic years are paid for. We look forward to her future success.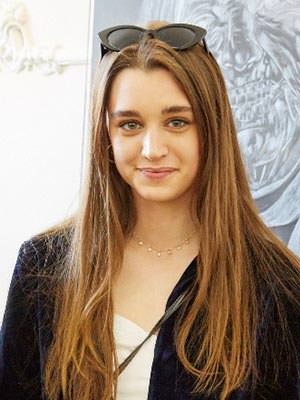 Each year we select one creative arts student for our Gifted and Talented category. In 2019, Ella Pound emerged as the most original, talented and hardworking student who throughout her studies here displayed a determination to reach her potential.
Ella has attended MPW for the past two years and has responded to the demands of the A level syllabus with confidence and ability. For the first time ever, an MPW student opted to undertake three arts courses within the department; Ella studied Art, Textiles and Graphic Communication, completing all coursework and exams in each option to a consistently high standard achieving an amazing A* in each, which is unprecedented. Ella also attended the portfolio preparation course and attained her first-choice application place within the University of the Arts at Central St Martins College. Ella's ambitious final pieces in her projects and the rich and imaginative content and presentation of her sketchbook illustrate her creative ability; this undoubtedly led to her deserved nomination for the Art Prize 2019. She has displayed skill and maturity in her approach to all disciplines showing fantastic range and depth of ability. Ella has greatly contributed to the Creative Art department and we in turn wish her every success in her future studies and career.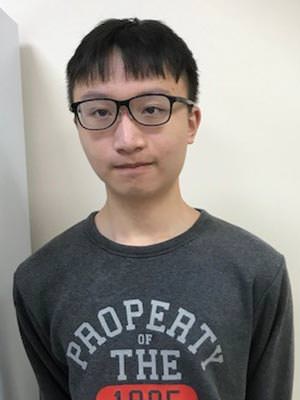 George Liu first joined Cherwell College in April 2016 to improve his English language skills and to prepare for academic studies in the UK.
George moved to a traditional boarding school in September 2016 but returned to Cherwell College in September 2018 for his two-year A-level studies in: Chemistry; Physics; Maths & Further Maths. George has progressed well and is maintaining his academic efforts. His polite, thoughtful and helpful approach to every aspect of student life, as well as his outstanding studies, have earned him the award for our student of the month.
His Physics tutor comments: 'George is a hardworking and delightful young man to teach'.
George has shown a generous willingness to participate in the life at Cherwell College and he can always be relied upon by the College staff not just in our study centres, but in the College as a whole, either with contributions towards the College events or volunteering to support the administration. On numerous occasions George assisted and acted as a buddy to new students and helped out at reception.
George had strong competition from: Evelyn Chen, who is totally focused and determined with her studies – a highly motivated and ambitious student; Douglas Akello who has improved in all areas including enrichment and behaviour; and Adam Liu who has impressed recently, particularly in relation to his interaction with others: very pleasant and thoughtful in his approach.
Chelsea Independent College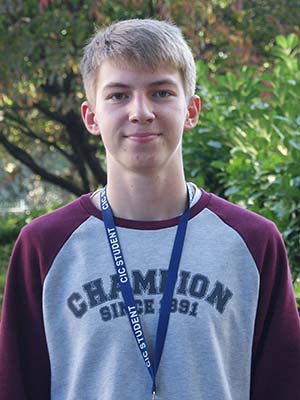 A-Level student Bogdan Berlov joined Chelsea Independent College this academic year from Kazakhstan to study A-Level Economics, Mathematics, Further Mathematics and Physics, a reflection of his love of both numbers and science.
Not only is Bogdan a brilliant mathematician scoring highly in any problem-solving challenge, he is also a passionate and successful dancer. Along with his studies, he very much enjoys dancing: "I find the contrast between science and dancing incredible and useful at the same time. While dancing I have the opportunity to 'switch off' and relax. This way, it is very easy to combine the two; it is something I love." Bogdan has attended several international competitions and workshops worldwide, including NBA Dance Battle in Paris in April 2018 and a dance festival in Kiev in January 2019 where he competed with nearly 200 dancers and finished in second place.
Joining CIC and meeting our specialist teachers has further developed Bogdan's interest in Economics. He sees his future an economics degree with a focus on marketing and business development.
Bosworth Independent College
Freya is in Year 11, taking GCSE exams this summer. In addition to being a popular and dynamic student, Freya throws herself into extra-curricular activities, sharing these with her parents and brother.
Freya has developed the Green Code for Bosworth, to promote environmentally-friendly procedures within the College. On 23rd March 2109, she was featured on the BBC's Blue Planet 2 Live Newsfeed with her family. Her enthusiasm for plastic-free living is compelling.
Freya is equally impassioned when it comes to dance. She was chosen from dancers throughout the whole of the UK to perform at the Imperial Society of Teachers of Dancing (ISTD) Bursary Awards. She had won in the Senior Classical Greek Dance category in the national Ruby Ginner Awards and because of this was selected to perform at the bursary awards. She was required to submit a personal statement on how dance has shaped her life and how she plans to implement it in her future.
Alongside her clear delight in performing at this prestigious event, Freya was thrilled to be given a bursary to help finance her dance training. She told us, "It was an honour to be selected and an amazing day where I got to meet other amazing dancers, teachers and industry workers.
Collingham Independent College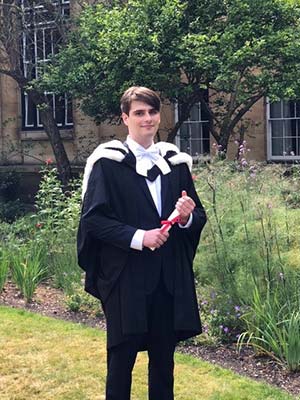 Willem Nelis joined Collingham Sixth Form College from a West London day school. He felt that the small classes and tutorial style teaching methods would suit his learning style and would enable him to push himself academically.
Willem spent two great years at Collingham and was awarded the college prize for Humanities. His special area of interest is military history, and the role of war in history. The A level History specification allows students to do an independent piece of coursework and this enabled Willem to really indulge his passions. He produced an outstanding piece examining the extent to which the development of aircraft was the most important change in military technology in the period dating from 1845 to 1991.
Willem left Collingham with an A* in History, A in Geography and A in Religious Studies. He went on to read History at Christ's College Cambridge.
Ellie Eden joined Westminster Tutors from a girls' day school in London. She had achieved excellent GCSE grades but wanted to take her A levels in a more mature, collegiate environment.
With a love of animals and a keen interest in conservation, Ellie is taking A levels in Biology and Chemistry. To give her additional stretch, her Geography teacher elected to deliver the Geography Pre-U instead of the A level, and between them they devised a unique fieldwork project relating to rhino conservation in South Africa, for which she collected data while volunteering for six weeks over summer. In contrast, Ellie reports that fellow students from her former school had a standardised fieldwork project studying pond algae in the Serpentine ...
Apart from gaining an extraordinary range of work experience, from national parks in the US, to the ZSL/London Zoo, to South Africa, Ellie has in recent months really taken a step out of her comfort zone, sharing the position of Head Girl at Westminster Tutors, a leadership role tasked with organising events and bringing together our diverse student body. We expect Ellie to continue to flourish as she looks forward to studying Conservation Biology and Ecology at a top university next year.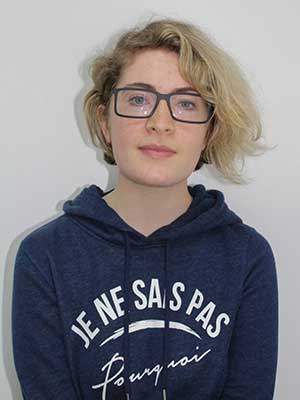 For the academic years 2016/17 and 2017/18, Charli Eglinton was a music scholarship student, being awarded a 40% scholarship for her outstanding academic achievements and talent. She left Ashbourne Independent Sixth Form College with 3 A grades in Music, Film Studies and English Literature. She did not take up a place at university because she could not identify a course that resonated sufficiently with her many creative interests in writing, film production and musicals. At the time of writing she is very, very excited about her new job as an assistant in a film production company.
Charli advises that her initial anxiety about taking a place at a 'posh' private college was soon overcome because of the ease with which she made friends as well as the stimulation and enthusiasm of her teachers. She grew in confidence because of the grown-up approach to education found at Ashbourne which led to her embarking on her current non-traditional career path.