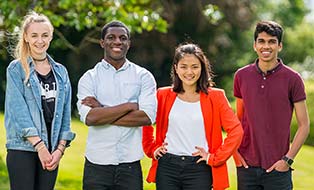 Principal:
Lorraine Atkins BA (Hons), PGCE, CELTA
Directors:
Charlie Freer BA (Hons), ACA
Mark Jeynes BSc (Hons), MBA
Address:
Sopers Lane
Padworth
Reading
Berkshire
RG7 4NR
Tel:
Latest College News
Click + for details
Welcome to Padworth College from Lorraine Atkins, Principal
I am delighted that you are considering Padworth College for your sixth form studies.
At Padworth, we provide the foundations for independent learners to develop a passion for life and for learning.  Whilst every student is an individual, it is also important for them to work as a team player, whether it is in the classroom, on the sports field, participating in drama or music, or during a walk in the countryside.  Our classroom at Padworth operates in every environment and every day of the week!
The staff at Padworth are committed and caring.  They strive to support each and every student to achieve the very best.  Today, we all live and operate in a global environment.  Coming to study at Padworth College will provide you with a fantastic international experience for life.
Introduction to Padworth College
Padworth College was founded in 1963 by Oxford university tutor, Peter Fison, and a group of Oxford dons, whose vision was to bring Oxford's educational philosophy of tutorial teaching to school-level education.
Today, the College is an international, co-educational boarding and day school for students aged 13 to 18.  The College can accommodate up to 100 boarders and 20 day students.  International students represent about 80% of overall enrolments, with 30 different nationalities represented.  The largest nationality represented is the UK, with British students representing about 20% of enrolments.
The College occupies a 12 acre site on the edge of the hamlet of Padworth, near the university town of Reading and only 35 miles from London Heathrow Airport.
The College offers a broad range of academic programmes to prepare international and British students for entry into top UK universities.  The key programmes are:
2 Year I/GCSE programme
1 Year I/GCSE Programme
2 Year A Level Programme
18 month A Level programme (January start)
NCUK International Foundation Year programme – Business and Engineering Pathways
Class sizes are small for optimum learning and to encourage student-teacher interaction.  Each student follows their own individual programme of learning, in a supportive environment.  Daily supervised prep (study periods) helps promote a mature approach to study, whilst weekly testing (on Saturday mornings) ensures progress is carefully monitored.  Individual support and guidance is provided with university applications, with students progressing to top British universities.
Boarding is central to the ethos of the College and the strong Padworth College community provides a home-from-home setting in a beautiful, calm environment.  Student welfare is a priority, ensuring there is a balance of academic study alongside recreational and social activities.  Through participation in a broad range of co-curricular activities, students develop skills and interests and lifelong friendships.
Day students are an integral part of the boarding community and enjoy the benefits of having time and space to develop their skills, interests and friendships.
Boarding students live on campus in boarding houses, with separate houses for boys and girls.  The majority of rooms are single study bedrooms.
All of the boarding houses have kitchen facilities and common room areas for student use, with a laundry facility close by.  The Principal and Director of Studies live on site, as well as the residential house staff, all ensuring a high staff ratio and level of supervision.
All meals are served in the College dining room, lovingly prepared by our team of chefs, who are able to cater for all requirements.
The College's Enrichment Programme includes a varied programme of sport, social and recreational activities.  On-site facilities include a Fitness Centre, Multi Use Games Area (for tennis, 5-a-side football, basketball, netball etc.) and open-air swimming pool!  In addition, the College has access to local sports facilities nearby.
As well as on site activities, we organise a stimulating and varied programme of fully-supervised trips at weekends.  These include London sightseeing, excursions to the nearby cities of Oxford and Reading, theme parks and attending live sports and other cultural events.
The College is located in a picturesque and safe countryside setting, in peaceful and tranquil natural surroundings, in the hamlet of Padworth, near the university town of Reading.  The College is housed in a former historic country estate and enjoys majestic views of the beautiful landscape of West Berkshire.
Padworth is situated to the south west of Reading, with London close by.  The nearest train stations are Aldermaston (4 minutes) and Theale (10 minutes).  Trains from these stations travel directly to Reading (15 minutes), with a connecting service to London Paddington (28 minutes from Reading).  By road, the College is easily accessible via the M4 motorway.
The College is a convenient distance from London Heathrow Airport (35 miles), which is a 40 minute drive from Padworth.
cife Scholarships
Padworth College offers Academic Scholarships to exceptional students enrolling in Years 9, 10, 11 and 12 in September 2020 and to those students enrolling on the 18 month A Level Programme in January 2021.
Scholarships will normally only be awarded to those students enrolling for more than 18 months (i.e., those students joining Year 12 in January), although we will also award scholarships to exceptional students enrolling on the 1 Year IGCSE Programme in Year 11. For those enrolling in Years 9, 10 or 11, the scholarship award will end upon the completion of Year 11. Students are then able to apply for a new scholarship for Year 12 entry.
Please email admissions@padworth.com or visit https://www.padworth.com/admissions/scholarships-bursaries/ for more information.