This article on A level retakes was last updated in August 2017.
It has never been more worthwhile to improve disappointing exam results. Although the abolition of January exams makes it less easy to retake quickly there are still plenty of options, and the benefits of getting into a top university are considerable. This article takes you through the FAQs about A level retakes - just click on the + to expand the questions you are interested in.

And if you want to talk options through just contact cife or a cife college. We're the experts!
Which A levels can I retake?
We're in the midst of big changes to A-level specifications and exams (see our
article on new A-level exams
), and the class of 2017 are the very first to sit exams in the new linear A levels, in 13 'Phase 1' subjects. All other A level exams taken in summer 2017 were old (= 'legacy') modular A levels.
You can retake any of the A levels sat in summer 2017, whether they were new linear, or old modular ones. If you sat a modular A level this summer you can retake the same modular exam in summer 2018. If you sat a new linear A level, you can retake that too. If you want to retake an A level you took ealier than 2017 life is a bit more complicated: you may find you can only retake the subject in its new linear form (see more on this later).
What are the rules about retaking a modular A-level?
You can only retake in the summer (January exams disappeared several years ago), but you can retake just the modules you need to rather than having to redo the whole exam.
If your modular A level was in a subject being examined for the last time in summer 2017 (ie it is a 'Phase 2 subject' – see 'new A-level and GCSE exams' article for a list of these) summer 2018 is the very last time any retake module papers will be set, and only retakers who took the full modular A level before can enter for them.
If your modular A level is one of the last lot of subjects to go linear (see 'new A-level and GCSE exams' article for a list of these), you can resit it in summer 2018 and in summer 2019.
The exam boards will recalculate your modular A-level grade taking the best marks you have achieved for each unit, no matter when or how often those units were taken (so long as all the units came from the same exam specification). You might think it better to retake all the units anyway, but bear in mind that you'll still have to work hard to improve a unit you have already done well in. cife colleges have a lot of experience in helping students work out what to retake and what to leave.
You are perfectly entitled to switch to a new linear exam for your retake if you want to, but you will of course have to take the entire linear exam in summer 2018.
What about retaking the new linear A-level specifications?

If you took a new linear exam in summer 2017 you can retake it in summer 2018, but you have to retake the whole exam. The only exception to this is coursework, which you won't be forced to redo.
What if I want to retake an A level I took before 2017?
If it was a 'Phase 1' A level subject (see '
new A-level and GCSE exams
' article for a list of these) you can now only take the new linear A level in that subject. Your old module marks won't count towards the new exam, and you will need also to redo any non-exam components such as practical work. All other modular A levels will still be available in summer 2018 (but see previous point about retakers-only in some subjects), and you can carry forward module marks even if they are several years old.
What's the point of retaking A levels?

The main reason is to get onto a degree course which requires better grades than the ones you've got. Going to university is expensive and it's important to make sure that the money you have to pay out for three years of higher education gets you the best possible degree. Students often comment that pride is involved too: "I don't want to compromise my plans and I want to prove that I'm better than the grade I got".
When is retaking a good idea?
Retaking A levels is a serious option if you haven't got the grades for the course of your dreams,
and
you are confident you can improve on the results you've already got. Our
page on retake courses
gives a detailed guide to how to work out whether retaking makes sense in your own case.
Do universities accept A-level retakes?
Yes, in almost all cases. A few will increase their standard offer, but most appreciate that students who retake are highly motivated and, because they have overcome disappointment, will work harder on the degree.
Getting an offer as a retaker is tougher for very competitive courses – medicine for example, or law at Russell group universities. cife colleges can give you objective advice on what is and isn't possible, and on how to submit an effective new UCAS application.
Changes in the rules let universities admit more students with high grades. If you can get those grades your prospects of getting a place at a very good university have never been better, and the benefits of retaking become greater.
As a first step, ring up the admissions officers for the degree courses you want, and ask them whether they would consider you with retakes. Be ready to discuss why you missed the grades and why you know you can do better. They should welcome your enquiry and give you an honest answer.
Will I improve my A-level grade?
Most students who retake A levels improve, and it's not uncommon for a student to get several grades higher. Our page on
retake courses
goes through the questions you need to ask to work out whether retaking will bring you better grades.
If you know why you didn't get the grade you wanted (for example, you were ill, or you didn't work hard enough, or you panicked during the exam) you can make sure that doesn't happen again when you retake. If your teachers tell you you've got the ability to do better, you probably will. Take examples of your work to a cife college to get a frank and independent view of its quality and potential.
What about getting an exam remark?
There are pros and cons to asking for a remark: you might upgrade, but you might go down as well, ane even priority remarks take time. Visit our page on
getting a remark of an A-level or GCSE exam
for full details of how to decide whether to get a remark. You'll also see how to get copies of your exam scripts. If you decide to retake it is definitely worthwhile doing this, the marked scripts will help you sort out what went wrong, which is the first stage to improvement.
Where can I retake A levels?
Joining a
cife
college course specifically designed for retakers is likely to be a better option that just repeating your last year at school. School is not an option at all if the subject you want to retake is a Phase 2 subject (see list in our
article on the new A-level exams
) because the school's final-year class will be studying the new linear A level from September 2017 on. On a specific modular A-level retake course you can be sure of covering everything you need rather than just working at A2 units. Furthermore, in a new environment, with different teachers, you will see your work through fresh eyes and feel you are moving forward again. That is what
cife
colleges are all about.
Do I have to spend a whole year studying to retake?
No, it's entirely possible to take time out for a few months and then start studying in 2018. That will cost you less and enable you to enjoy some GAP year benefits, but you'll be short of time to do the thorough overhaul needed for a substantial improvement. You will lose knowledge and study habits during the layoff, and getting back into study-mode will take at least a couple of weeks. Easter 2018 is likely to be too late to get back on track and make the improvements you want.
Each person's case is different, and the pros and cons of retaking can be difficult to work out. cife colleges are happy to talk options through to help you map out your best strategy.
One thing is really clear: you need to come up with a plan as soon as possible after you get results. As mentioned below, UCAS applications need to be made well before Christmas 2017, even if you're not starting study again until 2018.
What about entering for the exams?

If you join a cife college, it will deal with exam entries for you, but if you are studying on your own you will need somewhere to actually take the exams. You can't enter for the exams just by contacting the exam board: you must enter via a 'recognised centre'. Your old school may be willing to enter you for the exam (but don't just assume they will), and most cife colleges can help by entering you as a 'private candidate'. Exam entries need to be made early, by mid February 2018 for the summer session. You may be able to enter later than this, but it can be very expensive.
What happens to my old modular A-level result when I retake?
When you have finished taking all the units required by a subject specification, the best marks you got for each unit were 'cashed-in' (or 'aggregated') to give you an overall grade. Your old school will have requested that cash-in for you automatically. When you retake units and want to get a new and improved grade, you simply get the college you retake with to ask for a new cash-in.
When that happens, the exam board will issue you with a new grade based on the best results you've got for all the units taken, irrespective of when you took them. The rules about your best result for each module counting have not changed. Pearson (EDEXCEL)'s guidelines on results give more information (and other exam boards have the same rules). The new A-level grade replaces your old one.
What happens to my old linear A-level result when I retake?

When you retake a linear exam you'll get a new grade which is decided entirely by the marks you get in the retake exam – there's no 'carry forward the best mark' option as there was for modular A levels. You can ask for internal asessment marks (eg practical endorsement grades) to be carried forward so you that you only have to redo the written exam papers when you retake a linear a level.
Is it worth retaking AS exams?
That depends if you sat a modular A level or a linear one!
In modular A levels AS counts for 50% of the A-level grade, so it makes sense to get the highest AS marks you can, especially given that AS exams are gnerally easier than the second year modular A2 exams. Retaking AS modules may well be a good idea in this case. Even so, you need to go through the 'should I' process described on our
retake courses page
. You will need to study for the AS retakes alongside the A2, and take the exams in the same summer session. That's an extra load you need to be confident you can cope with.
In linear A levels, AS doesn't count towards your A level result at all, so retaking it won't help improve your eventual A-level grade. The new linear AS exams do count towards university entrance, but not if you've already got an A level in the same subject. All in all, the case for retaking linear AS exams is thus pretty difficult to justify.
If you have taken AS exams at the end of the first year, and the results are a mess you face a real struggle in upper sixth, and you may even find that your school insists you change your programme in ways you're not happy with. In that case you might have to consider restarting the sixth-form, or changing to a college which will provide the extra support you need (see our page on final-year A-level entry to cife colleges).
Who will do my UCAS reference?
To be effective your UCAS reference needs to cover your past, to explain why the grades you got were not the best you can do, and it needs to justify better grade predictions for the future. It may be that your old school can do all this for you, but the most effective reference is one in which your old school and your retake college co-operate in writing a new reference with information from them both.
cife
colleges are very experienced in facilitating this, and it's certainly something to ask them about if you visit to discuss retakes. Check out our '
Six top tips for an outstanding UCAS form
' for more about references.
Obviously your new college can't write a reference if it hasn't taught you at all. This poses a particular problem for students who want take time out and start retake work at their new college sometime in 2018. Putting in a late UCAS form isn't a good idea, so you will still need to apply for university in autumn 2017, using your old school for the reference. It's vital to know that the reference they give will be supportive and that they are happy to predict the grades you need. Do discuss this with a cife college if you're worried about it.
Can I study something new at the same time as retaking?
Yes there are quite a few subjects you can study from scratch alongside retakes. It's difficult to do this in less than three terms though. For further details look at our
information on one-year courses
.'
There's no problem with a programme which combines modular and linear A levels, and there's no problem taking a linear A level in one academic year.
What's possible with GCSE retakes?
You can resit GCSE exams in November 2018, but only in English, English Language and Maths
(eg
see AQA information page
). January and March GCSE exams were abolished some time ago, and of course all GCSE subjects became linear in summer 2014, so you will have to take the whole GCSE exam, not just the bits you need to improve. Re-submitting old coursework is possible, subject to conditions. If you want to retake any other GCSEs you will have to wait until summer 2017 to do so.
Just to complicate matters further, GCSE exams are also being changed to introduce new grading systems, less coursework etc (see our article on the new A-level and GCSE exams). The government has promised one last retake opportunity in a limited range of legacy GCSE specifications, which (except for Maths and English) will be in the summer following the last 'legacy' exam session..
Check out our page on GCSE courses for more information about GCSE retake courses.
Our Advice page links to more cife articles.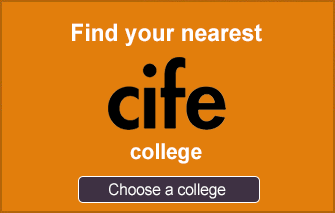 students come first at cife colleges
Related pages on this site
A-level retake courses at cife colleges