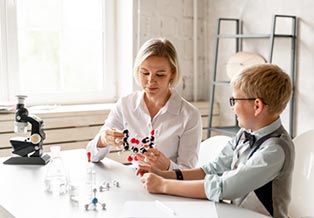 Principal:
Carl Morris M.Chem. (Oxon.)
Deputy Principal:
Victoria Jefferson B.Sc. D.Phil. (Oxon.)
Address:
39-42 Hythe Bridge Street
Oxford
OX1 2EP.
Tel:
Latest College News
Click + for details
An Individual School
Carfax College is a unique tutorial college specialising in the highest quality one-to-one tuition and teaching. Challenging traditional teaching methods, Carfax's innovative approach to education, encouraging curiosity, creativity and confidence, has earned the college an excellent reputation for the particularly high level of support and close attention offered to all pupils.
Welcoming pupils from the UK and from overseas, Carfax College creates bespoke learning plans with the flexibility to fit every ambition and timescale.
An Individual Curriculum
Carfax Tutors assess, prepare and develop your child to help them achieve their academic goals, in a way that works best for them. We know that every student is individual and our specialist tutors take the time to get to know each child, and their learning style, to deliver a personalised education experience that inspires a passion for learning.
Most Carfax pupils are working intensively towards public examinations - at GCSE, AS and A2 level and our expert tutors also provide support across all aspects of preparation for university entrance, including interviews and aptitude tests.
Individual Care
Our education plans include extra-curricular activities to help each child develop a range of skills that will support them beyond education.
We also offer blended learning plans which give young people the opportunity to combine time at Carfax College, in the heart of Oxford, with remote study from any part of the world. We have expert tutors available in our global offices, online, or ready to travel to your location.
We offer boarding through our network of warm and welcoming host families, who provide accommodation, catering and support to our boarders whilst they are enjoying their time in the UK.
Popular options are:
A2 Re-take courses
One year and two term courses
Selected topics within units can be the focus of study, meeting each individual's exact needs.
One Year A level (A2 with AS catch up) courses
First time A2 study
Selective revision of units or a complete review if needed
Easter Revision & Holiday courses
Revision courses for GCSE, AS and A2 levels
Individual tailor-made holiday courses throughout the year
At Carfax "everything is possible"
For more information, or to arrange a visit or an interview, please call or email the Admissions team.