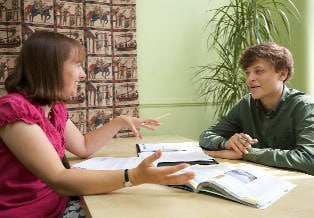 Principal:
Carl Morris M.Chem. (Oxon.)
Deputy Principal:
Victoria Jefferson B.Sc. D.Phil. (Oxon.)
Address:
39-42 Hythe Bridge Street
Oxford
OX1 2EP.
Tel:
Latest College News
Click + for details
An Individual School
Carfax College (formerly known as Carfax Tutorial Establishment) is a very individual, distinguished and academically focused tutorial college which has achieved a reputation for the particularly high level of support and close attention offered to all pupils. The college welcomes pupils from the UK and from overseas.
Carfax provides individual tuition at all levels and in all school and university subjects. Pupils are helped to find and focus on appropriate and personal academic goals, and then their tutors ensure they are supported all the way to exam-room and university application success.
An Individual Curriculum
Most Carfax pupils are working intensively towards public examinations - at GCSE, AS and A2 level. Excellent support is provided for sixth formers in all aspects of preparation for university entrance, including interviews and aptitude tests.
For those who do not want to follow the conventional programmes of two-year GCSE or A level study, Carfax can offer a fully personalized programme with flexible term dates and duration. Small group tuition is also available with the group size never exceeding three.
Individual Care
One thing that is never flexible at Carfax, however, is our commitment to helping each pupil realize his or her full potential and achieve academic success. We are a small community with a strong family atmosphere, and the happiness and well being of our pupils is of paramount importance to us.
Popular options are:
A2 Re-take courses
One year and two term courses
Selected topics within units can be the focus of study, meeting each individual's exact needs.
One Year A level (A2 with AS catch up) courses
First time A2 study
Selective revision of units or a complete review if needed
Easter Revision & Holiday courses
Revision courses for GCSE, AS and A2 levels
Individual tailor-made holiday courses throughout the year
At Carfax "everything is possible"
To get advice, or to arrange a visit or an interview, please call or email the Admissions team.