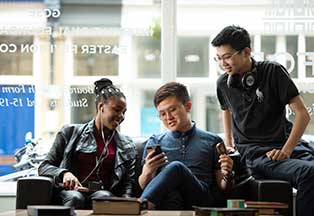 Principal:
Mark Love BEd PGCLME
Assistant Principal, Pastoral & Boarding
Carole Nyssen BA Cert Ed
Assistant Principal, Academic; SENDCO
Johnathan Roberts BA BSc MEd MSc PGCE PCert (NASENCO) MBPsS
Address:
12 King Edward Street
Oxford
OX1 4HT
Tel:
Latest College News
Click + for details
Introduction
Oxford Sixth Form College (formerly Oxford Tutorial College) is a well-established independent sixth-form college specialising in preparing candidates for university entry. There is a strong culture of industry and self-motivation, which encourages a growing sense of responsibility. The college delivers a quality education in a supportive environment, thus providing the ideal springboard for success in examinations, at university and beyond.
Courses offered
The college offers A-level courses over either one year, five terms or two years and GCSE courses over one year. Retake courses are also available over one, two or three terms. Small groups are taught in well-appointed classrooms and teaching is carefully tailored to meet each student's needs.
Academic work is supported by regular meetings with a senior tutor and by frequent progress tests. Specialised support is available for those who need to develop learning skills and all students benefit from the emphasis placed on study skills and examination technique. The college offers all the traditional school subjects plus others less widely taught.
Intensive A-level and GCSE Easter revision courses are offered in a wide range of subjects on a residential or non-residential basis.
College amenities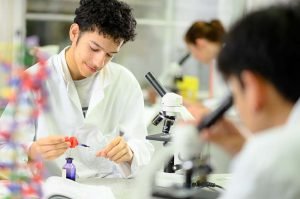 Facilities include a well-stocked library, an IT suite, science laboratories, dedicated art and design and photography suites and student common room.
Senior Tutors provide guidance at every stage of the university application process; the college has an excellent record of placing candidates on competitive degree courses.
While many of our students live within convenient commuting distance, for those whose homes are further away, the College offers boarding. Students may choose from a variety of extra-curricular activities organised by the student committee. They are able to join the nearby Oxford Union, with its well-stocked libraries and stimulating programme of debates and speaker meetings.
Location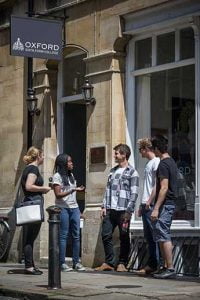 The college occupies a fine set of Victorian buildings in the heart of this ancient university city; it is a ten-minute walk from the railway and bus stations, and there is a convenient park-and-ride facility for those travelling by car. London and the Thames Valley are particularly well-served by public transport, and there is a fast direct coach link to Heathrow airport.
Members of Staff
The college has a staff of highly qualified and experienced tutors including many Oxbridge graduates. They are an unusually gifted and dedicated team whose teaching priority is to maximise examination performance in each student they work with.
Easter Revision Courses
Oxford Sixth Form College offers over 20 A Level subjects, with one subject studied per week. For GCSE we offer Mathematics, English and Science on a half-day or full-day basis. Residential and non-residential options are available.
The effectiveness of these courses hinges upon a high degree of individual attention and supervision. We offer high calibre tutors who communicate ideas skilfully and are sympathetic to each student's study issues.
Read more in our revision brochure available here.
cife Scholarships
Oxford Sixth Form College offers scholarships of up to 40% of the tuition fees for a Five-Term or Two-Year A-Level or BTEC programme. These Scholarships are available to students who show the potential and ambition to succeed in the fields of:
Medicine
Dentistry
Veterinary Science
Engineering
Law
Art (Fine Art, Textiles, Photography)
Business
To be considered for a Scholarship award a student must be able to demonstrate: outstanding prior and predicted academic achievement; a genuine enthusiasm for and commitment to their chosen future career.
Find out more about cife scholarships at Oxford Sixth Form College