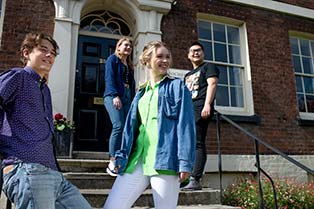 Principal:
Alistair Brownlow MA Hons St Andrews, MPhil Glasgow
Address:
254 St Margaret's Banks
Rochester
ME1 1HY.
Tel:
Latest College News
Click + for details
Welcome to Rochester Independent College
High Performing and Non-selective
In the Government Tables released in January 2020, RIC was judged as being in the top 2% of schools in England and top in Medway for A Level progress. Our only entrance qualification is an honest determination to work hard.
Study with us
"Many students transfer here after poor progress at AS or A level and the effect can be dramatic. It's a sound investment - among the retakers, all got into university and three-quarters won Russell Group places." GOOD SCHOOLS GUIDE
Established in 1984 and 37 minutes from central London by train, Kent's Rochester Independent College has evolved into a co-educational day and boarding school for students aged 11-19. The original specialism in intensive retakes and short course GCSEs and A levels remains at the core of the College. At RIC, small classes and individually tailored support not only rebuilds confidence and helps students improve results, it often leads to them exceeding their own academic expectations. 75% of students are from the UK and 25% are international.
Autumn A level and GCSE resit courses in October 2021
This year has again seen disruption to the A level examinations due to Covid 19. It is likely that for different reasons some students will be unhappy with their TAGs and be looking to retake in October or June. Rochester Independent College is offering intensive revision and exam preparation for students who choose to take advantage of the autumn sitting to prove their potential as well as our established one-year retake programmes.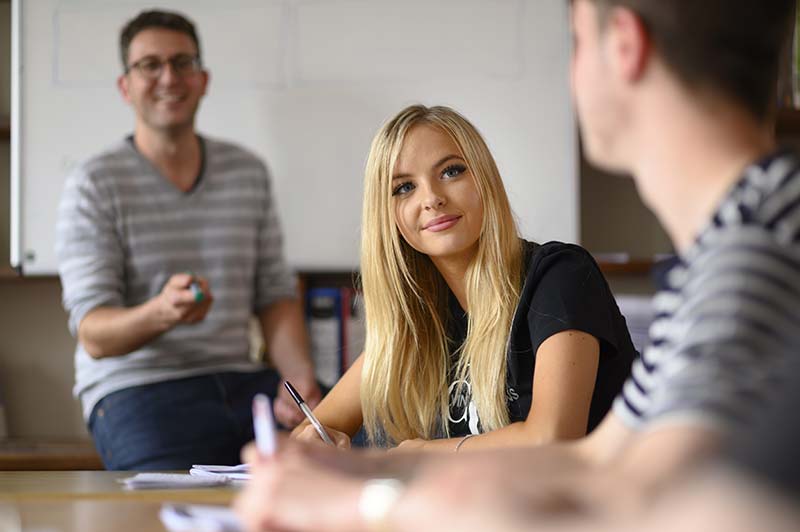 Academic and creative
"The teaching at Rochester is rigorous and tailored to the best possible exam results. It offers a broad education combining its original focus on getting students into competitive courses such as medicine and dentistry with a new emphasis on the creative arts." THE INDEPENDENT
The College's reputation was first established with the excellence of our Maths and Science teaching and the fact that many of our students achieve their ambitions to become doctors, vets and dentists. The College consistently sends students to top Russell group universities and Oxbridge for subjects such as Medicine, Dentistry, Optometry, Pharmacy, Physiotherapy, Natural Sciences, Mathematics, Actuarial Science and Engineering.
Creativity is also central. RIC was one of the first UK schools to offer GCSE Film Studies and our A level Film Studies is very well established, winning Good Schools Guide Awards regularly. We have launched a new A level in Digital Media and Design.
Visual and performing arts including Fine Art, Photography, Graphic Design, Textiles and Drama are popular options and in Music, we offer both A level Music and Music Technology.
"It would be hard to find better provision for an artist" GOOD SCHOOLS GUIDE
40+ A level subjects are offered at RIC – see the full list here.
Our Courses
A levels
GCSE
Prospectuses and college news - Please visit our virtual bookshelf.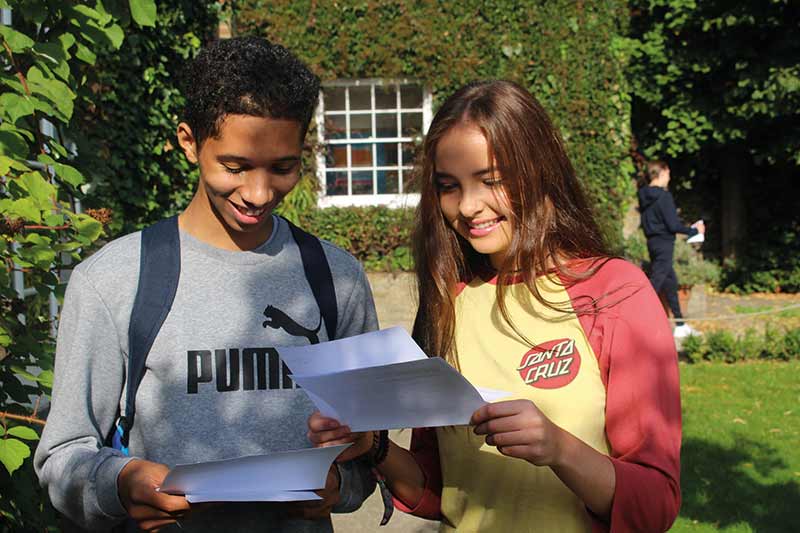 Individual Support and Supervision
Personal tutors work with students on an individual basis to monitor pastoral and academic progress and provide personal welfare. Our teaching and pastoral staff are pro-active, identifying where students are having difficulties and offering practical help, solutions and encouragement.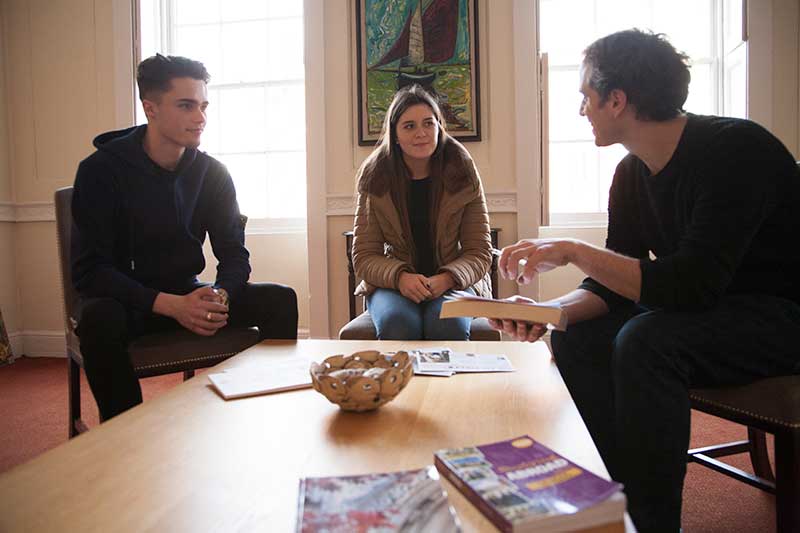 All RIC's accommodation is on-campus and students do not have to travel between teaching buildings and accommodation. Most are single rooms and some have en-suite facilities. Up to 108 of the 345 students at the College board each year.
Boarding at RIC combines the informality of a university hall of residence with the supervision and pastoral support appropriate for older teenagers. The emphasis is on providing a comfortable, happy and fun environment.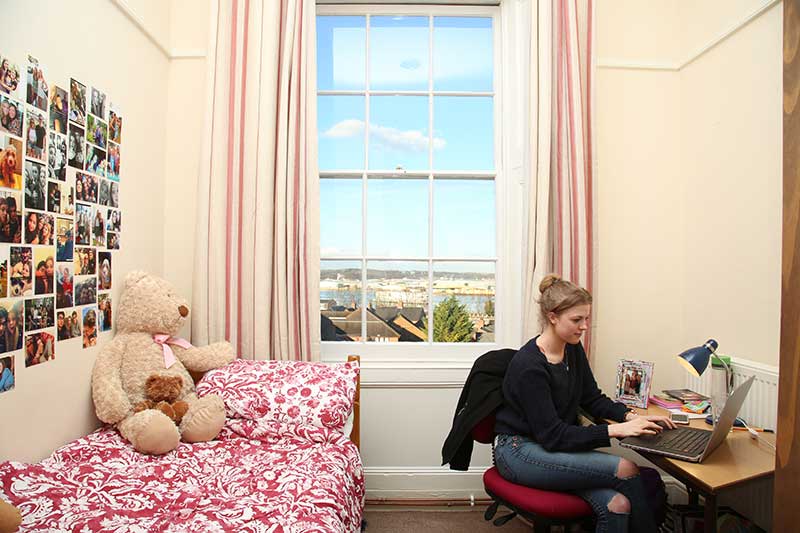 At the heart of a designated conservation area, the College occupies a historically distinctive site of 14 mostly listed buildings. RIC has award-winning wildlife gardens that create a unique sense of place where students can explore, study and work.
The City of Rochester has many beautiful old buildings including the castle and cathedral and the association with Charles Dickens is celebrated each year.
"If you're looking for somewhere where they will treat you like you are at university, a place where you can choose your own subjects which aren't confined to blocks so you can create the A level course and experience you want and be surrounded by a positive hard working but fun vibe, then go to Rochester Independent College." RIC student
"A rigorous testing regime in the sixth form informs teachers' planning and promotes examination success. Students' attitudes to their work and learning are exemplary. The warmth and relaxed college atmosphere give students the confidence to participate in lessons without fear of being labelled a failure." Independent Schools Inspectorate
"It's place for individuals. The campus is as unique as the school. The students are a strikingly nice bunch and there's a lovely air of tolerance and warmth." Good Schools Guide
cife Scholarships
A small number of scholarships and bursaries are awarded to highly academic and creatively gifted students who would otherwise be unable to afford to take up a place at RIC.
The college offers a limited number of scholarships of up to 50% of the fees. A written personal statement, examples of work and a recent school report are requested and all shortlisted candidates are interviewed.
Scholarships are awarded in the following subject areas:
Maths and Sciences
Social Sciences
Film and Media
Creative and Performing Arts
Please email admissions@rochester-college.org or visit https://rochester-college.org/next-steps/scholarships/6th-form-scholarships for more information.