This article on the new A level and GCSE exams includes the latest information up to July 2018

Article summary
A level and GCSE are in the final stages of major change. Each A level's content has been revised but the major change came with the exams, which are now all 'linear' ie taken at the end of the course. AS, while it survives, no longer counts towards the A-level grade. The new A level and GCSE specifications (new word for 'syllabus') are being phased in. Teaching in some linear A levels started in September 2015, more subjects started in 2016 and 2017, and the final set of subjects (minority languages) start teaching in 2018. The first new end-of-course exams came 2 years later. Apart from one last resit in June 2019, in some subjects, (see later), the old modular exams have gone.
GCSE has already become linear, and the new GCSE specifications are 'more challenging'. Grading in the new GCSEs is on a scale of 1 to 9 instead of G to A*. Coping with the changes has posed new problems for students and their teachers. A similar pattern of introduction, followed by new exams 2 years later saw first exam results in three new GCSE subjects (English Language, English Lit, Maths) in summer 2017,

An overview of the new A level and GCSE exams

The Department for Education has pushed through big changes to GCSE, AS and A-level exams, aimed at making them more 'fit for purpose'. In practice most of the changes make exams tougher. From a student's perspective the most challenging reform is the abolition of modular examining. All exams are taken at the end of the course, and retaking bits of the exam to improve overall grades is no longer possible.
Although the exams may be tougher, the numbers getting each exam grade in summer 2017 did not fall significantly. This owes more to a lowering of the marks needed to get each grade than it does to greater efforts by teachers and students!
AS exams continue but do not count towards A-level marks.
The new A and AS 'specifications' have been introduced in four stages, key subjects first. Teaching started in September 2015, and first new-style A-level exams took place in summer 2017. The final subjects to change will start teaching in September 2018, with first exams in summer 2020. Most of the 'old' modular A level subjects continue in linear form. A few have been dropped (eg Environmental Studies and Human Biology) You can find full details on the OFQUAL website.
A and AS keep the same A*-E pass marks, but exams include a wider range of question types, and coursework is examined only if it is essential to assessing the subject.
GCSE exams have already gone linear, and are changing further, with revised and often harder content and exam questions, and a new 9 (best) to 1 grading system. Coursework has been cut back (for instance GCSE Maths now doesn't involve any) and fewer subjects now offer 'tiered' exams (different exam papers aimed at higher / lower achievers).
It may be more difficult for OFQUAL and the exam boards to keep year-on-year results to the same standard over the next few years as content, exams and candidature change. Fluctuations are inevitable.
For more background see our news article from 2012, No January A level and other changes.
The sections which follow describe the changes in detail. Just click on the + to expand the section you want to read.
Our Advice page links to more cife articles.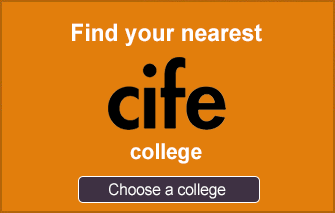 cife colleges provide safe opportunities for positive change
Related site pages
Choosing the right A-level subjects