Article in summary
The article describes the 2019 CIFE awards ceremony at the House of Lords, at which CIFE President, Lord Lexden OBE presented prizes to 41 high achievers from CIFE colleges.
Article in detail
At the annual CIFE Academic Awards Ceremony held at the House of Lords on Wednesday, 3rd April, Lord Lexden presented awards for academic excellence to forty-one students who achieved remarkable A-level and GCSE results last summer. The recipients - some British, some from overseas - were warmly applauded at the presentation, all having studied at sixth-form colleges belonging to the Council for Independent Education (CIFE), of which Alistair Lexden is President.
The top prize, the CIFE Gold Award, was won by Louise Lyu from China, a student at MPW College, Birmingham, who had obtained A* grades in Mathematics, Further Mathematics, Chemistry and Physics. Louise's performance in Physics was one of the highest in the country and she is now reading Physics at Imperial College, London.
The 2019 CIFE awards ceremony was supported by Double First and by Wesleyan Financial Services, both sponsors of the work CIFE colleges do.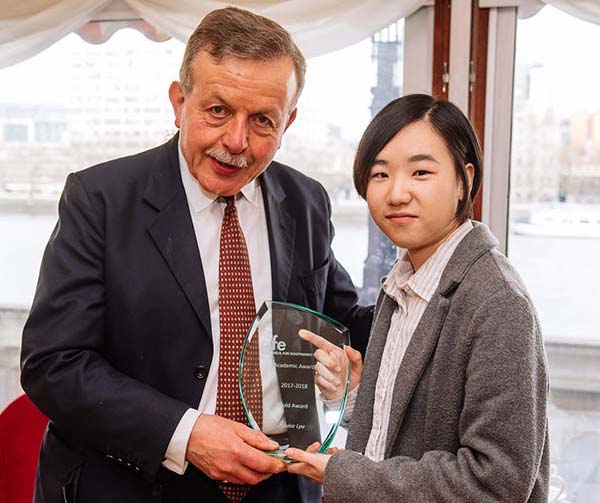 Lord Lexden presents the 2019 CIFE Gold Award to Louise Lyu
---
CIFE Academic Awards
The individual winners are listed below.
CIFE Gold Award
Louise Lyu (MPW Birmingham)
CIFE award for Sciences
Chenming Wang (Cambridge Tutors College)
CIFE Andrew Osmond Maths awards
Fanfei Chen (Chris) (Bosworth College)
Ha Anh Nguye (Cambridge Tutors College)
Phan Thi Ngoc Thu (Chloe) (Bosworth College)
CIFE award for Economics
Gianvincenzo Matricardi (Christopher) (Cambridge Centre for Sixth-form Studies)
CIFE awards for Humanities
Christina Childs (Ashbourne College)
Constanza Michell (Ashbourne College)
Lily-Rose Morris-Zumin (Ashbourne College)
Mathilda Mould (Ashbourne College)
CIFE awards for Visual and Creative Arts
Sophie Brown (Oxford Sixth Form College)
Suksakaow Mahuttanatan (May) (MPW London)
CIFE award for Languages
Niku Hessabi (MPW London)
CIFE award for Social Sciences
Thi Hien Trang Dang (Gloria) (Cambridge Centre for Sixth-form Studies)
CIFE Value Added awards
Meg Aston (MPW Birmingham)
Mollie Selwood (Bath Academy)
Pranay Ruparelia (MPW Birmingham)
CIFE award for GCSE
Katherine Chulack (MPW London)
Paul Kitchener Memorial Award
Apinya Thitiphatthanawanit (CATS Cambridge)
Baroness Perry Award
Motunrayo Saidat Bashir (Tuns) (Bosworth College)
---
CIFE College Awards
Acorn House College Katia Grewal
Ashbourne College Meena Bashier
Bath Academy Alise Ashby
Bosworth Independent College Chang Liu (Chloe)
Brooke House Hai Vu Quach (Jonny)
Cambridge Centre for Sixth-Form Studies James Klima
Cambridge Tutors College Roisin Spragg
Carfax College Michael Gimson
CATS College Cambridge Geonwoo Baeg
CATS College London Na Yeon Kim
Chelsea Independent College Bogdan Berlov
Cherwell College Abigail James
Collingham College Rosamond Sutton
David Game College Eshaya Lim
LSI Independent College Afton McKeith-Magaziner
MPW Birmingham Joe Lamb
MPW London Rebecca Bushell
Oxford International College Shazril Bin Suhail
Oxford Sixth Form College Sophie Brown
Regent Independent College Ramya Logeswaran
Westminster Tutors Henna Jolapara