Article in summary
The article describes the 2013 CIFE awards ceremony at the House of Lords, and outlines the individual award winners' achievements.
Article in detail
At the annual CIFE Academic Awards Presentation held at the House of Lords on Monday 18th March 2013, Baroness Perry of Southwark presented CIFE awards to thirty eight CIFE college students. 19 students received CIFE Academic Awards for outstanding A-level results, one for GCSE and one for Foundation courses. Competition for Awards is fierce: perfect module scores and national ranking exam performance are usually needed! It's truly outstanding CIFE college students win awards.
Another 18 students whose all-round contribution to the life of their college life has been exceptional received CIFE College Awards.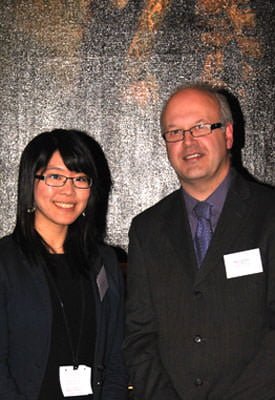 The Gold Award winner, Onusa Charuwana from Thailand, was an A-level student at Cambridge Centre for Sixth-form Studies for two years. She achieved four A*s, dropping only 21 marks out of a maximum possible score of 2000. She is now studying Architecture at Lucy Cavendish College, Cambridge. She said: "I must thank all the staff at my college, because throughout my two years there they gave me so much of their time and attention. I felt that I was catered for as an individual, both by my teachers and by the pastoral staff. By the middle of my AS year they had given me the confidence to believe that I should apply to Cambridge University, so this award and my success is a great credit to them as well."
Onusa is pictured with CIFE Chairman Mario Di Clemente.
Baroness Perry, former Chief Inspector of Schools, is the President of CIFE. Lady Perry is a staunch supporter of British universities for their work with young people and for their research. In the Teaching Excellence debate in 2010, Baroness Perry praised the excellent work of teachers. CIFE Colleges were all delighted by Baroness Perry's statement that, "An inspirational teacher can literally change lives. At its best, teaching is a magic process that lights up the imagination of young people, draws out their curiosity and gives them lifelong skills and understanding." The award winners here today are signal proof of the truth of these words and CIFE Colleges will endeavour to continue to change lives!
The CIFE Awards Ceremony is kindly sponsored by 360 AdsFab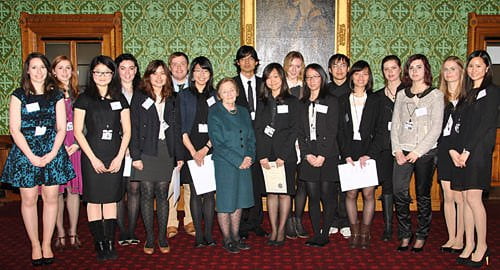 The 2013 CIFE Award winners are pictured above with Baroness Perry.
CIFE Academic Awards
CIFE Gold Award
This is the top award, and was won by Onusa Charuwana (Cambridge Centre for Sixth-form Studies)
Paul Kitchener Memorial Award
Chenge Wu (Bath Academy)
CIFE award for GCSE
Isabella Whiteway (MPW London)
CIFE awards for Sciences
Nam Long Nguyen (Ashbourne College)
Nat Phon-Or (Cambridge Tutors College)
Artjoms Iskovs (Cambridge Tutors College)
CIFE Andrew Osmond Maths awards
Walter Kaehm (Cambridge Centre for Sixth-form Studies)
Tanaporn Na Narong (Cambridge Centre for Sixth-form Studies)
Yulun Wang (Cambridge Tutors College)
Hoai Nam Nguyen (Chelsea Independent College)
CIFE award for Economics
Le Ha Anh Phung (Ashbourne College)
CIFE awards for Humanities and English
Elizabeth Hughes ( Ashbourne College)
Chelcie Poole ( Ashbourne College)
Lavinia Puccetti (MPW London)
Nataliia Kondratii (Bosworth College)
CIFE award for Visual and Creative Arts
Marija Titova (DLD College)
CIFE award for Languages
Helena Clark-Maxwell (MPW London)
CIFE awards for Social Sciences
Caroline San Kyi (DLD College)
Bao Ngoc Hoang (MPW London)
CIFE Value Added awards
Wu Yik Him (Bales College)
Tom Charman (MPW London)
CIFE College Awards
Abbey College London (now DLD Belgravia campus) Chhunhay Kim
Ashbourne Independent Sixth Form College Elizabeth Hughes
Bales College Aynan Iqbal
Bath Academy Hope Moon
Bosworth College Gloria Olatunji
Brooke House College Mark Tan
Cambridge Centre for Sixth-form Studies Emily Brown
Cambridge Tutors College Nichola Kar Yee Wong
Carfax Tutorial Establishment Yutaro Saito
Chelsea Independent College Tran Hoang Thang Long
Collingham Emma Mackilligan
DLD College Tinashe Dingwiza
Duff Miller Sixth Form College Abigail Goldblatt
Lansdowne College Jamie Metcalfe
MPW Birmingham Thi Hong Phuong Nguyen (Sophia)
MPW London Silvester Ladanyi
Oxford International College Huda Al-Fardus
Oxford Tutorial College Maha Aljefri