Article in summary
The article describes the 2015 CIFE awards ceremony at the House of Lords, and lists the individual award winners.
Article in detail
At the annual CIFE Academic Awards Presentation held at the House of Lords on Wednesday 18th March 2015, Lord Lexden presented awards for academic excellence to thirty-six CIFE college students who achieved outstanding results in 2014. The recipients - some British, some from overseas - were warmly applauded at the presentation, all having studied at sixth-form colleges belonging to the Council for Independent Education (CIFE), of which Alistair Lexden is President.
The Gold Award winner, Cliff Chung Cho Fung from Hong Kong, was an A-level student at Bosworth College, Northampton. Cliff achieved A* in four of his A Level subjects - Biology, Chemistry, Maths and Psychology, with grade A in every unit and full marks in 14 out of 22 papers. He also gained grade A in Chinese. He is currently studying Psychology and Behavioural Science at Robinson College, Cambridge. He said: "It is my great honour to receive this award, which enhances my passion for academic study. I enjoyed the experience of being educated at Bosworth, where I received the full attention of passionate teachers and supportive college staff."
Lord Lexden said: "CIFE colleges provide a wide array of courses; many offer over 40 different AS and A level subjects taught by highly qualified specialists. Extraordinarily impressive grades are achieved, opening the way to places at leading universities.Those who run and teach in CIFE's eighteen member colleges are among the heroes and heroines of the education system and their praises should be sung much more loudly."
The CIFE Awards Ceremony is kindly sponsored by Penna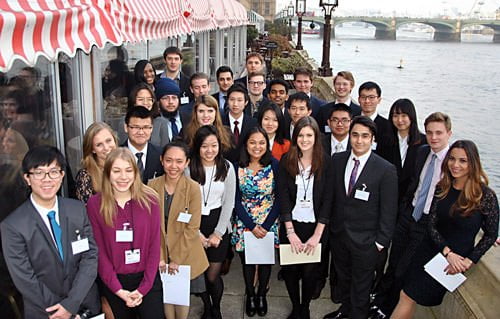 2015 CIFE Award winners are pictured above.
CIFE Academic Awards
CIFE Gold Award
This is the top award, and was won by Chung Cho Fung Cliff (Bosworth College)
CIFE awards for Sciences
Samson Law (Bosworth College)
Jaekyeong Lee (Bosworth College)
CIFE Andrew Osmond Maths awards
Jiang He (Cambridge Tutors College)
Yiqin Wang (DLD)
Qingyan Zhang (MPW London)
CIFE award for Economics
Kevin Cui (MPW Birmingham)
CIFE awards for Humanities and English
Charlotte Neve (DLD)
Isabella Martinez-Sistac Orozco (MPW London)
Nicholas Rothwell (MPW London)
Katharine Sloane (MPW London)
CIFE award for Visual and Creative Arts
Anna Isabelle Villafuerte (DLD)
CIFE award for Languages
Samuel Knight (Collingham)
CIFE awards for Social Sciences
Linh Khanh Tran (MPW Birmingham)
Zoe Tan (MPW London)
CIFE Value Added awards
Inderpal Bassan (MPW Birmingham)
Alice Carter-Pegg (MPW London)
CIFE award for GCSE
Mathilda Wood (MPW London)
Paul Kitchener Memorial Award
Alexander Uche Ukwu (Bath Academy)
Baroness Perry Award
Tuan Truong Van Nguyen (MPW London)
CIFE College Awards
Ashbourne College Sophia Sabban
Bath Academy George Merison
Bosworth College Omolemo Monyatsi
Brooke House College Vin San Dinh
Cambridge Centre for Sixth-form Studies Ellie Peters
Cambridge Tutors College Zi Koon Pong
Carfax Aleksandr Bogomil
Chelsea Independent College Kristoffer Knudsen
Collingham Benjamin Blinchevsky
DLD Kabeelan Rajamurthy
Duff Miller Mehrbod Keshavarzi
Lansdowne Onon Bayasglan
MPW Birmingham David Scott
MPW London Tommy Moore
Oxford International College Ying Jie Jiang (Ashley)
Oxford Tutorial College Kenji Baba