One of the best measures of a sixth-form college's success is the quality of the universities its students join afterwards. To get into a top university course a student needs strong grades backed up by expert advice and effective help with application procedures. CIFE colleges do both very well indeed on both counts. Half of CIFE students got top university places in 2015
There are 160 institutions in the UK that can award degrees (see check-a-university-is-officially-recognised) but the most prestigious of the mainstream universities are the twenty four institutions which belong to the Russell Group. A degree from one of these universities gives graduates a real competitive edge.
In 2015, out of 1141 CIFE college students,  539 gained places at Russell Group universities, and 138 were accepted at other 'top tier' universities (Times top 30 etc).
To see how this compares with 2013 leavers look at our page on 2013 CIFE student destinations.
Our Advice page links to more CIFE articles. If you have any questions or advice that you'd like us to feature on these pages then please let us know.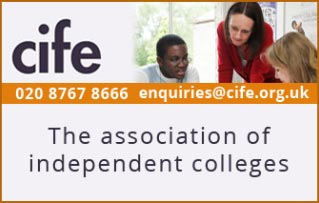 The table shows the 20 universities accepting the most CIFE students in 2015. Russell group universities are shown in green.
| | |
| --- | --- |
| University name | No of CIFE students |
| King's College London | 53 |
| City London | 52 |
| University College London | 51 |
| Queen Mary London | 49 |
| Manchester | 37 |
| Exeter | 34 |
| Nottingham | 34 |
| Bristol | 32 |
| Westminster | 27 |
| Leeds | 26 |
| Sheffield | 24 |
| Warwick | 23 |
| Birmingham | 22 |
| Oxford Brookes | 21 |
| Sussex | 20 |
| Aston Birmingham | 19 |
| Edinburgh | 18 |
| Southampton | 18 |
| Imperial College London | 17 |
| Surrey | 17 |
|   |   |