Article in summary
The article describes the 2017 CIFE awards ceremony at the House of Lords, at which CIFE President, Lord Lexden presented prizes to outstanding students from CIFE colleges.
Article in detail
Eighteen students who gained outstanding A-level results last summer were be presented with awards for academic excellence at the House of Lords on Wednesday 5th April.  One exceptional  Foundation Course student and one outstanding GCSE student also received awards. Another 18 students received CIFE college awards in recognition of their contribution to the life of the colleges they belonged to.
The top prize, the CIFE Gold Award, was won by Techin Tungcharernpaisarn from Thailand, who studied at Cambridge Centre for Sixth-form Studies.  Techin is now reading Materials Science at Oxford University, having obtained A* grades at A-level in Mathematics, Further Mathematics, Physics and Chemistry.  He dropped only 26 out of a total of 2400 available marks, inevitably gaining full marks in many of his papers.  He gained gold awards in the Chemistry Olympiad in both years of his sixth form, and a gold award in the Cambridge Chemistry challenge; a gold certificate in the UK Senior Maths Challenge and a merit in the Kangaroo round.  Throughout his time at CCSS Techin impressed all his teachers and his peers with his intelligence, his diligence and his positive attitude.  His university professor reports that he is already making his mark as a scholar of the highest calibre.
Lord Lexden, a former General Secretary of the Independent Schools Council (ISC), hosted the annual Academic Awards Presentation on behalf of the Council For Independent Education (CIFE) of which he is Honorary President.
Lord Lexden said: "Year after year statistics produced by leading international organizations show that our independent schools and colleges provide an education that ranks among the best in the world.  No wonder families here and abroad are so keen to send their children to CIFE's successful member colleges.  Their outstanding A-level results prove once again that they have fulfilled the trust placed in them.
Their mingling of great talents and different cultures helps enrich our country and other nations. That is why CIFE champions easier visa arrangements for able young people who come to study here and deplores the inclusion of these most welcome guests in the official migration figures."
The CIFE awards ceremony was supported by Double First and by Wesleyan Financial Services, both sponsors of the work CIFE colleges do.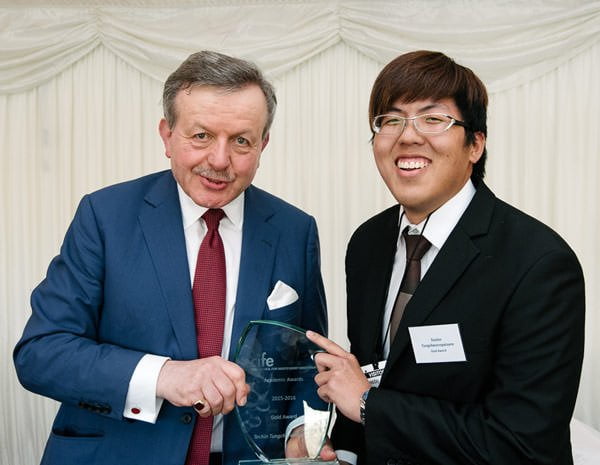 Lord Lexden presents the CIFE Gold Award to Techin Tungcharernpaisarn
CIFE Academic Awards
The individual winners are listed below.
CIFE Gold Award
This is the top award, and was won by Techin Tungcharernpaisarn (Cambridge Centre for Sixth-form Studies)
CIFE awards for Sciences
Arin Wongprommoon (Cambridge Centre for Sixth-form Studies)
Ho Sze Nip (Joy) (Bosworth Independent College)
CIFE Andrew Osmond Maths awards
Jake Lee (MPW Birmingham)
Trung Kien Nguyen (Bosworth Independent College)
 Xiaoyu Weng  (Ashbourne Sixth Form College)
Xinye Sha ( Bob) (Cambridge Centre for Sixth-form Studies)
CIFE award for Economics
Xiaorui (Iris) Zhan (MPW London)
CIFE awards for Humanities
Amy Wells (MPW London)
Lily Rabson (MPW London)
Ming Yan Lee (MPW London)
 Yiran Chen (Vivyne) (MPW Birmingham)
CIFE awards for Visual and Creative Arts
Simina Popescu (Lansdowne College)
Soala Ajienka (Ashbourne Sixth Form College)
CIFE award for Languages
Sophie Geikie-Cobb (MPW London)
CIFE award for Social Sciences
Nicole Gray (Bosworth Independent College)
CIFE Value Added award
Josephine Rushe (MPW Birmingham)
CIFE award for GCSE
Evgenia Alexandrova (MPW London)
Paul Kitchener Memorial Award
Paloma Morales (MPW London)
Baroness Perry Award
Alexandra Young (Collingham)
CIFE College Awards
Ashbourne College Tracy Nwokoma
Bales College Ammar Monojir
Bath Academy Sophie Teasdale
Bosworth Independent College Olivia Powell
Cambridge Centre for Sixth-Form Studies Edoardo Buttinelli
Cambridge Tutors College Jian Yi Kok
Carfax College Violetta Skittides
CATS College London Marwa Ali Almadhi
Chelsea Independent College Gurkiran Kalsi
Cherwell College Haiqi Wu
Collingham College Davit Endeladze
DLD College Karabo Sankoloba
Lansdowne College Shiyoun Kim
MPW Birmingham Faye Sing Yi Kho
MPW London Tara Bage
Oxford International College Julio Revilla
Oxford Tutorial College Alice Taylor
Regent College Alinah Yar