We're proud to report that Alice Taylor received a 2017 CIFE Award this April for her exceptional contribution to life at Oxford Sixth Form College. She received the award from CIFE President Lord Lexden at a ceremony in the House of Lords.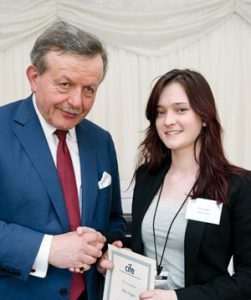 We feel privileged to have had Alice as one of our students. From the very beginning, she showed her enthusiasm and commitment to her studies and the college. Her maturity and her desire to succeed were soon very clear to all her teachers.
Alice impressed all of us by her combination of keen intellect and hard-working attitude. She excelled in her academic choices, English Literature, History and Music, becoming an inspiration to other students.
We sorely miss Alice at Oxford Sixth Form College, but we are certain our loss has become University of Oxford's gain.