Oxford International College student Juan Vasquez-Garrido has received a CIFE college prize for all-round contributionto life at OIC. Juan received his prize from CIFE President Lord Lexden in a ceremony at the House of Lords.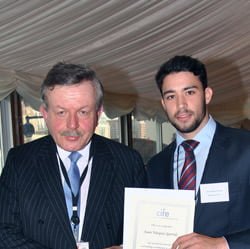 Juan embarked on an ambitious one-year A-level programme,even though advised to pace his study over two years. Soon after joining the college, the enormity of the task hit Juan, but he worked and played like a Trojan. Within 10 months he achieved results more than adequate to reach his goal of studying Mechanical Engineering at Loughborough.
Juan was welcomed into the Oxford Harlequins city rugby team, and was also a key player within the college's social scene, reliably well-presented as every occasion demanded. This prize recognises his contributions to the college as a robust academic, a fully-engaged participant and charming ambassador whom we are proud to have represent us.