We're delighted to announce that JiHo Park has been awarded a 2016 CIFE College Prize for his outstanding contribution to life at Lansdowne College.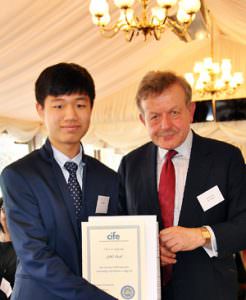 JiHo (pictured right with CIFE President Lord Lexden) started Year 10 at Lansdowne in September 2014, joining us from South Korea.  He is a gifted student across all of his GCSE subjects, with a particular passion for art and mathematics. Given this, he would like to pursue a degree and subsequently a career in architecture.  He recently achieved a Gold certificate in the Intermediate Maths Challenge which shows his talent in this subject.
He is a courteous and charming young man who is popular with his classmates and highly regarded by his teachers.  He is an active member of student council and will always go out of his way to help others.   His dedicated and committed approach along with his sense of humour and gentle nature make him a great asset to the GCSE cohort.