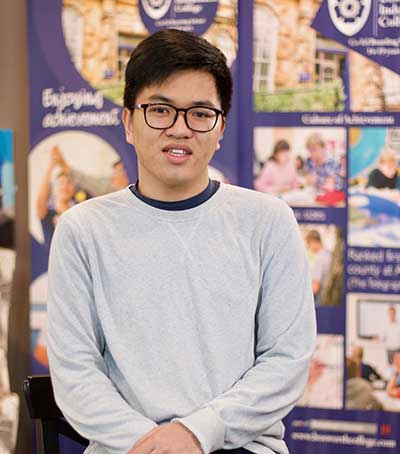 We are delighted to learn that Viet Cuong (Keith) Nguyen's essay, "5.5 inches", has been selected ISA Sixth Form Overall Winning Essay. The irony of writing about this on Social Media, given the essay's theme, is not lost on us!
Here are the judge's comments on Keith's work:
"Our choice of overall winning essay is simply entitled 5.5 Inches. Its author, Viet Cuong (Keith) asks us to 'Imagine how suffocating it is to live in a cramped world, where everyday life just revolves within a 5.5 inch boundary.' This essay shines a light on the seemingly dystopian reality of a population fixated with 5.5 inch screens – a population that believes it is communicating more and more but may actually be saying less and less.
What is this doing to our relationships? 'What's the point of 2000 friends when we are lonely in a crowd, not being able to speak up?'
This brief but challenging reflection concludes 'The medium of social media and the initial concept of its use is not a detrimental thing by nature, but it is the way we misuse it that accidentally gives it the key to take over our own trademark – our individuality.'
Congratulations Viet Cuong. I'm sure your school will share your success on social media… "
We are indeed very proud of Keith whose success comes hot on the heels of that of Kim Ninh, Daisy Wang and Chloe Liu whose essays also enjoyed success in recent years in the ISA Sixth Form Essay Competition.
Well done to all Bosworth students who submitted essays. Your work made interesting reading on a wide variety of topics. Knowing the high quality of the entries from Bosworth alone demonstrates to us just how terribly difficult the judge's decisions must have been. We are delighted that the overall prize came our way and congratulate all this year's prize winners on their well-earned success.