We're pleased to announce that Bosworth students received four 2017 CIFE awards. Only the very best students receive CIFE awards, so we're delighted to see Bosworth students' quality recognised this way. The four received their awards from CIFE President Lord Lexden at a ceremony held in the House of Lords this April.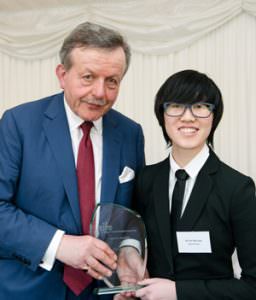 Ho Sze Nip (Joy) received a CIFE award for Sciences. With her 4 A-level A* grades (Maths, Further Maths, Chemistry, Physics) plus a B grade in Chinese,  it is little wonder that Joy, from Hong Kong,  attained her goal to study Mechanical Engineering at Imperial College.
She has a Gold Award from the Physics Olympiad 2016, a Silver from the Chemistry Olympiad 2016 and a Copper Award from the C3L6 2015. When Joy was in Hong Kong she was in the Air Cadets and later undertook a Kayaking Leadership Programme where in her position as navigator she found herself making decisions about sea conditions for the team.
More recently, Joy did a 4-week FutureLearn course at the University of Reading and whilst at Bosworth could be relied upon to be involved in fund-raising activities for local charities and to be omnipresent in the Study Hall, even during holidays.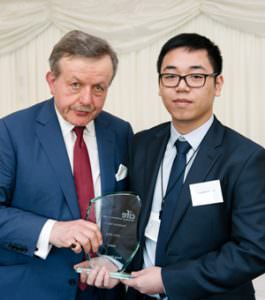 Trung Kien Nguyen won an Andrew Osmond Maths award. Having completed his High School in Vietnam, Kien came to Bosworth and attained A* grades in Maths, Further Maths and Chemistry A-levels alongside a grade B in Physics, earning himself a place to study Engineering (Chemical) at UCL.
In the Maths Challenge in 2015 he was awarded Gold, and completed the Maths Kangaroo. In the Chemistry Olympiad 2016 he was also awarded Gold and in the Cambridge Chemistry Challenge gained Silver.
Kien has interesting stories about his time in the Leadership at Sea scheme, working with people with physical and mental disabilities. He was always a very reliable Student Ambassador when at college, meeting and greeting new students during induction and parents for Open Evenings, with an air of confidence and a broad smile.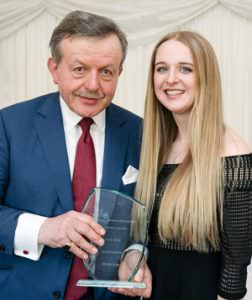 The CIFE award for Social Sciences was won by Bosworth's Nicole Gray. Nicole joined Bosworth to complete her GCSEs and chose to stay for A-levels in Geography (A*), Psychology (A*), Biology (A*) and Maths AS (A). Clearly a good "all-rounder", Nicole found the perfect undergraduate course to meet her broad interests – Human Sciences, which she is studying at the University of Oxford at St John's College.
Nicole has a Bronze Duke of Edinburgh Award, was Commended in the British Biology Olympiad and managed alongside studies to work part-time not only on tea duty at college but also either as a general assistant at a Hair & Beauty salon, as a Sales Assistant in Next and as a Sales Assistant at Morrisons (not all at the same time!) Her passion, however, is for dance. In the British Theatre Dance Association awards she has attained Distinctions in Modern Jazz, Ballet and a Merit in Tap.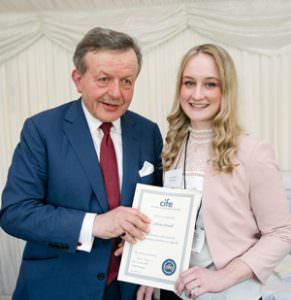 And finally, Olivia Powell received a CIFE College Award for her outstanding contribution to Bosworth life. Olivia's strong work ethic and academic focus were obvious when she first visited Bosworth Independent College but above all we were struck by her lively personality. Olivia has been at the very heart of the college since joining us for her A-level study. She achieved A grades in Geography and Spanish with a B in Economics alongside an AS in Government & Politics at grade C, earning her a very well-deserved place at the University of Exeter to study Modern Languages.
Olivia was heavily involved in the Student Council during both A-level years, leading as Chairman in her second year. She was instrumental in securing a Christmas party for students more in keeping with their true wishes than the celebration the college had hitherto provided. Respected by her peers and admired by staff, she was the unanimous choice for the College Award.