Four DLD students received CIFE Prizes from CIFE President Lord Lexden at a recent awards ceremony in the House of Lords.
Yiqin Wang received an Andrew Osmond Maths award. Yiqin came to DLD in September 2012 to commence A level studies in Maths, Further Maths, Physics and Economics to prepare for university application. Although she was a year younger than her peers, and keen to develop her language skills, Yiqin chose to study a full complement of four subjects in order to have the broad scope of studies expected of a UK sixth former. Her ability, intelligence, industry and rapid development saw her achieve quite stunning results extremely quickly, in addition to a range of extracurricular academic projects in which she excelled. She well-deserves her place at University College, Oxford and she is truly a phenomenal mathematician.
Charlotte Neve received an award for Humanities and English.Charlotte came to DLD in 2010 seeking a more independent learning structure and collegiate ethos to do her GCSEs. She gained excellent GCSE results, and her A level choices reflected her high achievement in humanities and sciences. English and History emerged as providing the intellectual stimulation she wanted to pursue at university. Charlotte showed initiative and ability in her academic work and in extra-curricular academic pursuits such as mentoring students with special educational needs. Charlotte completed her A levels in 2013 and during a gap year, she studied French A level at the college, pursued an independent course of reading and study, and participated in a number of volunteering and work-placements. Charlotte's combination of meticulous scholarship and intellectual insight suggests considerable academic ability in literature. She more than deserves her place to study English Language and Literature at New College, Oxford.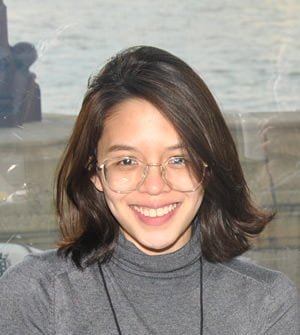 Anna Isabelle Villafuerte (pictured right) received the CIFE award for Visual and Creative Arts. Anna joined DLD in 2012 from her home in the Philippines to enjoy an English education with the intention of moving on to a British university. As a photographer, she clearly has an intelligent approach to the visual world. As a creative writer, Anna has great flair and originality: she produced an excellent portfolio that demonstrated imaginative ambition, stylistic control and superb sense of narrative structure. Anna is a very thorough and resourceful student who is determined to succeed. She is now reading Media Studies and Sociology at City University, London.
Anna was an extremely mature, highly motivated student who thrived at A level. She strengthened and enhanced her official studies with a range of extra-curricular related activities that displayed exceptional energy and determination, spending much of her free time involved in professional and cultural activities related to her studies.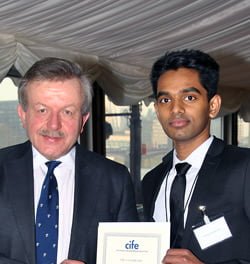 And finally, Kabeelan Rajamurthy received a CIFE College Award for his outstanding contribution to life at DLD. Kabeelan joined DLD in 2013 to study an 18 month A level programme. He achieved four full A levels in Mathematics (A*), Further Mathematics (A*), Physics (A) and Economics (A). He was very keen to extend his wider skills during his studies at the college. In line with this he also successfully completed the Extra Project Qualification (EPQ), achieving A*. Kabeelan proved himself to be a mature and very focussed student with an extremely high level of commitment. He was disciplined, motivated and keen to make the most of his time. He showed independence of thought and inspirational levels of enthusiasm. He was a courteous and charming young man who was popular with his classmates and highly regarded by his teachers. He is now studying Mathematics at University College London where he is sure to thrive. The picture shows Kabeelan receiving his award from CIFE President Lord Lexden.