We're delighted to announce that DLD students won two CIFE Prizes this year. CIFE makes a number of awards to exceptional students from member colleges and to receive a prize does not just require top results, but an exceptional contribution to college life. Well done to Mizuho Hashimoto and Sintija Eisaka.
Mizuho received a CIFE award for Social Sciences. She has been an exemplary student who has thrived academically, and she has adapted to living independently in London with impressive assurance. She possesses an awareness and insight with regard to cultural differences that gives her academic work considerable perspective. Mizuho's tutors have praised her motivation and her mature attitude to her work. She has shown great initiative and ability in class, and also in extra-curricular academic pursuits, including mentoring students at the college with special educational needs. We recognise Mizuho as one of the most mature, capable and academically-assured students we have had the privilege to teach.
Miz has a deferred place for September 2014 at the University of Cambridge to read Human, Social and Political Sciences and is currently travelling and doing some preparatory and investigating work.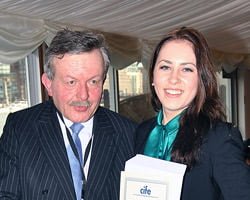 Sintija won a CIFE College Award. She came to DLD in 2011 from Latvia, seeking to pursue A-level studies in the UK with a view to applying to British universities. Sintija impressed tutors with her dedication, diligence and enthusiasm for study, particularly in Economics and Business Studies where she has quickly found her feet and has achieved impressive results. Her A* in Mathematics is the result of her natural curiosity, enthusiasm for learning and her positive attitude that no obstacle is insurmountable if one is keen to overcome it. It is her personal qualities that give Sintija the edge over some of her peers with similar academic abilities.
She is now enjoying her course in Economics & Business with East European Studies at UCL.