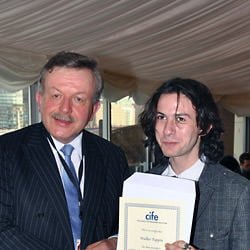 CIFE prizes are awarded every year to exceptional students and we're delighted that four Collingham students received CIFE awards this year.
Walker Pappin received a CIFE award for Humanities and English. Walker joined Collingham from our GCSE department. He scored A* in his three A levels of English Literature, Psychology and Philosophy. He scored 100% in 2 of his English units and 2 of his Philosophy units. Walker is a talented academic, who is keen to make his way as a writer. He is now studying English Literature at New College of the Humanities having won a full bursary for fees and maintenance.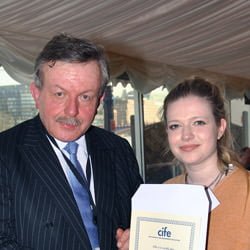 Isabella Speaight won a CIFE award for Visual and Creative Arts. Isabella came to Collingham from Hurtwood House to complete her final year of A level study. A talented artist and performer she gained an A* in Drama along with As in both Media Studies and Photography. An outstanding actress, she is now reading Theatre and Performance at Leeds. Isabella is pictured receiving her prize from CIFE President Lord Lexden.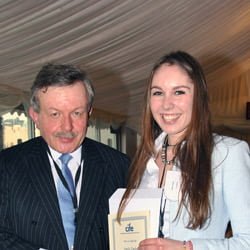 The CIFE award for Languages was given to Emily Taplin shown to the left.
Emily joined Collingham at A2 to study English, Ancient Greek, French and Art. She took a mixture of A levels and Cambridge Pre U exams and came away with A in French, and Ancient Greek, as well as a score of D3 – an A grade equivalent – in English Literature. An excellent linguist and academic with a thirst for knowledge, Emily has gone on to read English at Queens College, Oxford.
Amba Jackson received a CIFE College Award. She joined Collingham for a 2 year GCSE course after which she continued at the college with her A levels. An outstanding artist and designer, she achieved an A* in Textiles, as well as an A in A level Art and a B in English Literature. Amba has a real passion for design and fashion. She is currently searching for further inspiration in South America before returning to continue her studies at Art school.