On Thursday 25th April a squad of 10 players from Oxford Sixth Form College headed to St George's Park (the English Football Association's national football centre built on a 330-acre site at Burton upon Trent, Staffordshire) for the annual CIFE (CIFE is the professional association for independent sixth-form colleges) football tournament. This is only the second time that we had entered the tournament.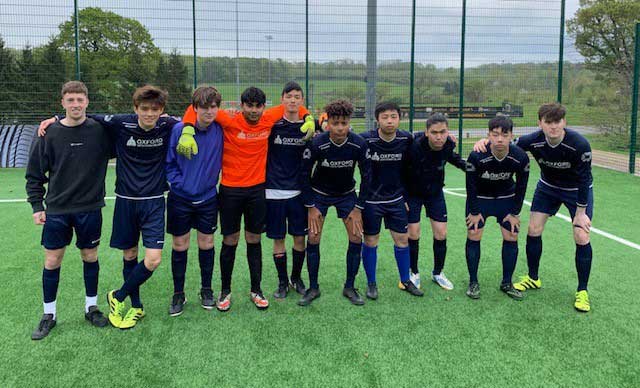 12 teams were split into 2 groups of 6 teams, each team played the other teams in their group as a mini league and then the top two teams went on to play a semi-final and final.
We beat our new sister college, Oxford International College, 1-0 in our first game. It took a little while to settle into the game but Cai Thomas scored an excellent volley from a corner to secure our first win. This gave the team confidence and belief.
Our second scheduled match against David Game didn't take place as they were unable to attend. So this was marked as a 1-0 win to us.
In our third match we played MPW Birmingham after lunch and lost 1-0. This was a feisty affair and we were unlucky to lose; there was rumoured to be a handball in the build up to the goal but it wasn't given.
Our Fourth match was now a must win game if we wanted to progress in the tournament. As we warmed up for the match against MPW Cambridge the grey skys overhead opened and the rain was torrential. It looked ominous but the weather seamed to inspire the team and we won 2-0 with goals from Tom Pearson and Matt Griffin and another excellent defensive display.
For our fifth and final group match we played CATS Cambridge (the team with 4 wins already), we needed to beat them to go to the semi-final. Another committed defensive effort from the whole team and 2 excellent goals from Tom Pearson secured a 2-0 win. The team really felt great after this win as they had achieved something that seemed quite difficult a few hours before.
We were second in our group and would play the winner of group A, Brook House, in the semi-final. The teams were evenly matched and after 15mins the teams were equal (0-0) so the match went to penalties. After a nerve racking few minutes all was equal (3-3) and then the pressure was on Ben Brundish to step up and take the next penalty, he calmly walked up and smashed it into the goal, hitting the side netting…the perfect penalty! Brook House then had to face our keeper, Kevin Stephen Roberts in his dazzling orange goalkeeper kit. Kevin jumped around and forced Brook House to miss and put us into the final 0-0 (4-3 penalties). A great effort.
The final was against CATS Cambridge the team we had beaten 2-0 in the group stages. We got off to a great start and scored from a fantastic move started by Gabriel Chen in defence and coolly finished by Xavier Taylor. CATS showed their quality and quite quickly scored to make it 1-1. Our resolute defence was doing a fantastic job but 1 minute from full time CATS managed to smuggle a goal in to make it 2-1. The full time whistle went shortly after the goal and CATS celebrated jubilantly.
We were initially disappointed not to have won but quite quickly that feeling changed to a sense of achievement on reaching the final and coming second. All the lads got a runners up medal which they were very pleased with. By the time we were on the minibus the heroic stories of the day were starting to be re-lived: the penalties, great goals, near misses, great saves, the heavy rain, solid defending and refereeing decision.
It was a great day out and the team did amazingly well to be runners up!