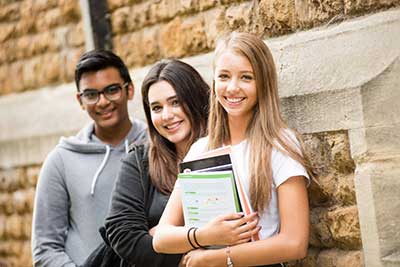 Around 25 Bosworth students are the first to take up the challenge of earning their Broadway Leadership Award. Open to students of all ages, the award brings together achievements in College and outside. Since its launch in November, the College has felt a buzz as students have become energised to take on new challenges and volunteer for positions of responsibility. A-Level student Keith says the Award "has pushed me to commit more to society, to try new things and especially to go beyond my limits and develop as an individual."
We think leadership is about three things;
Developing yourself – learning and developing new skills and challenging yourself to step outside your comfort zone
Contributing to the community – volunteering to help others in the community, whether this is within College, in our local area or in a student's home country
Working with others – learning how to communicate, motivate others, work cooperatively and successfully as part of a team
GCSE Student Ryan told us the BLA "tests my time management skills to excel in both academic and non-academic achievements and helps me develop my soft skills such as collaboration with others to further improve myself".
To gain a Gold, Silver or Bronze Award, students must complete three Skills, Volunteering and Community elements. To develop new skills, some students are learning a musical instrument, taking coaching qualifications or trying out a new enrichment activity in College such as Model United Nations or Spanish.
At Bosworth we provide many formal opportunities for all students to develop leadership skills and personal qualities as members of our Student Council, Student Ambassador and buddy scheme. We also encourage other informal opportunities, such as organising events, and recognise achievements completed outside of College.
The Broadway Leadership Award helps our students understand that universities and employers want more than good grades. Students are encouraged to develop as a person and build the skills they need to be successful in the future. Jakub, currently studying A-Levels, says "Personally, I am doing the Broadway Leadership Award to gather experience and add variety to my resume. I also like how it motivates people to help those in need around them". The BLA has inspired him to volunteer at a local Air Ambulance charity shop at weekends.
The first students will receive their Awards at the end of the year, but we have a growing waiting list of students who want to join the scheme. The success of the Broadway Leadership Award at Bosworth means it will be rolled out to other schools in the Broadway Education group next year.