Bosworth Success Stories
Graduate of the London School of Economics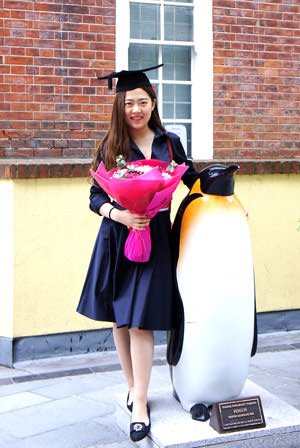 Teresa Wang left Bosworth in the summer of 2013 and has just graduated from LSE and has sent some good news to share.
"I obtained a first class degree in Actuarial Science at LSE, and I also obtained both first and second year CS Mac Taggart Prizes, which is a scholarship prize awarded to the top three best performance students of the year.  And throughout my three years of study, I got 7 actuarial exemptions, so I have only 8 more to go, which is a lot faster than others."
Teresa also interned at Ernst & Young Global Ltd in her second year and obtained a return offer from EY- Actuarial Advisory team, so she will be joining EY this September as an Actuary in the Pension team. She goes on to thank Mrs Renouf (AS Course Director) "I would really like to thank you for inspiring me and supporting me in my A-level study."
Success at Cambridge
We are extremely proud to report Baba, a former Bosworth student, received a First Class result in this year's exams at the University of Cambridge where he is studying Engineering.
As a consequence, he will be made a Scholar of St. John's College for the coming academic year. In addition, he has been awarded a College Prize and a United Steel Companies Scholarship.
"At Bosworth the aims of each individual student are important and every student receives tailored support. This provision helped me achieve my goal of studying at an Oxbridge University." Baba 2013