Bales student Lilly Connolly was recognised for her outstanding contribution to life at Bales by a 2016 CIFE College Award, which she received from CIFE President Lord Lexden.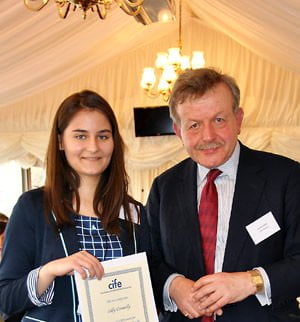 Lilly has made her presence strongly felt as a highly articulate and compassionate member of Bales College. Whilst finding time to offer help and explanation to students of all ages when they experienced difficulties, she herself gained seven As in GCSE courses. Her ambition is to go into the medical field and she has had work experience in a teaching hospital.
Lilly organised a 'Coffee Morning' in aid of Macmillan Cancer support, raising over £160, and participated in fundraising for the British Heart Foundation. She helped found a Singing Group, and has given presentations at Prizes Evening and school assemblies.