Ashbourne student Charli Eglinton won Best Short Film and was awarded Overall Winner at the WJEC EDUQAS Moving Image Awards 2018 for her short animation '8',  which tells the story of two brothers and their ties with the mafia.
The Moving Image Awards is a national competition, designed in partnership with the British Film Institute, that recognises and rewards talented young filmmakers from across the UK.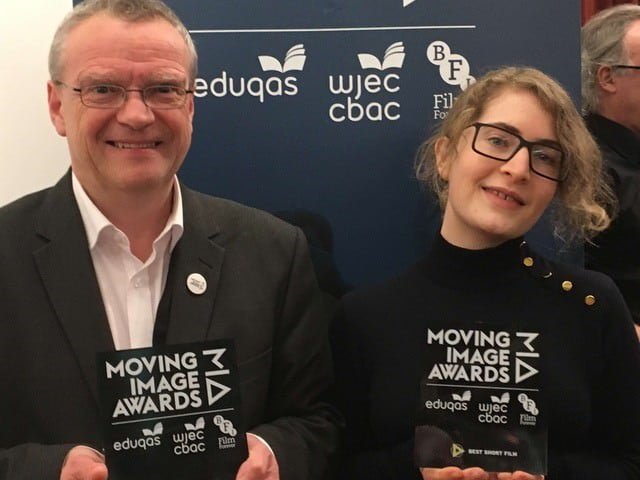 Dennis Fulcher (Head of Multimedia and Social Sciences) and Charli Eglinton
"I'm thrilled to have won. 8 was inspired by my love of anime and steampunk. It took me over three months to create, by drawing illustrations on a graphic tablet, which enabled me to develop the distinct aesthetics. It was amazing to see my work on the big screen, considering it was just an idea 18 months ago. Winning this award has inspired me to follow a career in film," says Charli Eglinton who not only wrote and animated the film but also performed the voiceover and composed her own score.

Charli graduated from Ashbourne in 2018. She was a scholarship student who stood out for her outstanding academic performance. She achieved 3 A grades in A level Music, Film and English Literature at Ashbourne.