Vin San Dinh received a 2015 CIFE College Prize at the CIFE Awards held in the House of Lords this March. San received his award from CIFE President, Lord Lexden.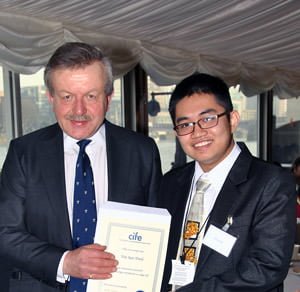 San is an extremely able, hard-working and academically gifted candidate. He is confidently predicted A* in all his A level subjects. Since coming to the UK, he has impressed his teachers not only with his breadth of knowledge but also with his preparedness to ask probing questions about topics under discussion. He is a brilliant and studious individual whose high academic ambitions are carefully channelled.
He has the ability to assimilate new material rapidly and independently, providing evidence of his potential to succeed at the highest level. His single-minded determination coupled with his intellectual curiosity displays his exceptional passion for knowledge.