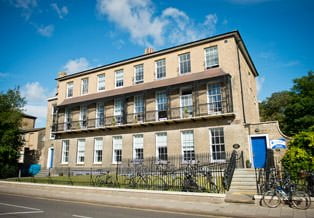 Acting Head of School:
Denise Hammersley BSc (Loughborough), PGCE (UEA), NPQH
Address:
4-5 Bene't Place
Lensfield Road
Cambridge
CB1 2EL
Tel:
Latest College News
Click + for details
Welcome to CCSS!
Cambridge Centre for Sixth-form Studies (CCSS) is an established independent sixth-form college providing day and boarding places for ambitious young people from the UK and internationally. For over 35 years we have been helping students progress to the very best universities.
Our courses
Driven by a passion for learning and a joy in teaching, the CCSS course structure and breadth provides the perfect platform for academic and personal growth. At CCSS we offer the following courses:
A Levels
Two-year A Level - At CCSS we offer an enviable range of two-year A Level subjects.
Five-term A Level – The Five-term A Level course starts in January and covers all the A Level specification in a shorter time.
GCSE
GCSE – The one-year GCSE programme offers a broad range of subjects providing students with a varied and balanced curriculum.
Pre-Programme
Pre-Programme – The Pre-Programme is the perfect all round preparation for A Levels, as well as being a great introduction to life at an independent sixth-form college in the UK. The Pre-Programme is offered as a full one-year course and we can offer a short course for two terms starting in January.
Summer School
Summer School – The Academic Summer School is a perfect all-round introduction for international students to what it's like to live and study in the UK.
Easter Revision
Easter Revision – Our Easter Revision courses support existing learning and identify gaps in study, hones exam technique whilst building ability and confidence.
Why CCSS?
Progression to the very best universities
At CCSS we have an impressive track record with students going on to study at some of the best universities in the country. Top destinations that students from CCSS have gone on to study at include University of Cambridge, University of Oxford, Imperial College London and University of Warwick. Our students have also gone on to study a variety of subjects from international business law to medicine.
Small class sizes (6-8 students)
The small group teaching environment allows for greater engagement with the teachers, each student is given individual attention and can develop at their own pace. Our results show that students benefit greatly from our small class sizes, the teachers are able to bring all students into group discussions and conversations allowing the students to gain confidence and progress to their full potential. This support means that the overwhelming majority of CCSS students choose to successfully continue their learning at universities in the UK and abroad.
Central Cambridge location
CCSS is located in the heart of academic Cambridge and we ensure that our wonderful location is used to full advantage by our students, encouraging them to make full use of the academic, social and cultural opportunities that are available to them.
Enrichment activities - A true Cambridge experience
As our buildings are in central Cambridge CCSS can provide the true Cambridge experience of culture, intellect and enjoyment. From cinema to science lectures at Cambridge University, basketball to language clubs, we offer an enormous range of educational and social activities.
Excellent boarding
All CCSS student residences are located right in the heart of the city. All boarding houses are staffed 24 hours a day, 7 days a week and students are able to be in the House at any time. The house managers are employed by CCSS and are well-trained professionals whom students know well, and whose first priority is the care and welfare of the boarding students.
Excellent student support
Every student is placed in the care of a designated personal tutor who works closely with each student and liaises with parents, teachers and boarding staff.
What our students say
Find out from our students what it's really like to study at CCSS.
Open Days
Attending one of our Open Days is the perfect opportunity to experience life at CCSS for yourself.
cife Scholarships
Every year, CCSS trustees determine a scholarship fund in order to help gifted and talented students access our small classes, high-quality teaching and exceptional pastoral support. The value of these merit-based scholarships ranges from 10% to 25% subject to a student's existing results, and any tests and interview. Parents/guardians seeking a scholarship are required to complete an application form which seeks to establish the academic abilities and potential of their child.
If you would like further information about a scholarship at CCSS please contact our Registrar on 01223 707943 or email admissions@ccss.co.uk