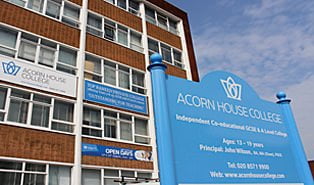 Principal:
Dr Francis Choi BEng BSc MMath MSc PhD
Address:
39-47 High Street
Southall
London
UB1 3HF.
Tel:
About Acorn House College
Acorn House College is an independent, co-educational, private A Level and GCSE College in Southall, West London. The College has a particular focus on preparing students for university degrees in the Sciences and in Business, Finance, and Law, and we are committed to supporting each individual throughout their time at the school to secure a place in a fulfilling course at a top university.
Founded in 1999, Acorn House provides an academically rigorous learning environment to inspire our students to aim and achieve highly. The College is proudly rooted in the local community of Southall, with generations of families being current or past students.
Our Courses: Different Pathways for Different Students
Acorn House is a GCSE and A Level College. For GCSEs, we offer two-year or one-year GCSE courses. There is also the possibility to fully retake your GCSEs.
Our A Level courses are taught over two years, 18-months, or within a one-year fast-track programme across a wide range of subjects. Our 18-month programme caters to international students or students who have started their A Levels at a different institution but are not satisfied with their progress and would like a fresh start. The one-year programme is designed as an intensive A Level Retake Course for students who wish to complete their exams to a higher standard. However, some students may take one-year A levels 'from scratch', if we believe they are capable of doing so.
"At Acorn you're really pushed to be your best. Students go from CCDD to ABBC."
–Acorn House Student, Year 13
University Preparation: Personalised Support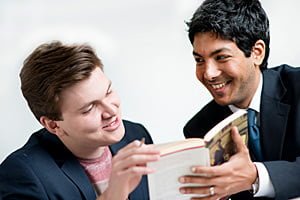 The College is committed to providing a platform for the best possible start to an academic career. This is supplemented by our dedication to supporting school-leavers beyond their studies to submit excellent applications to top UK universities and medical schools. Every Sixth Form student is assigned to a personal tutor. In weekly one-to-one tutoring sessions, the student's career prospects and university application are discussed, while the tutor is also responsible for personal statement support. We have a proven track record, with a third of our leavers regularly going on to study a course in the Medical Sciences, including Medicine, Dentistry, Pharmacy, and Optometry.
"The teachers are amazing. They have proven to be as great as other people said they'd be and they'll help you achieve what you want."
–Acorn House Student, Year 12
Our Staff: Experts in their Fields
We have put together a team of expert professionals in their fields to ensure the very best education for our students, and our track record proves their success. The dedication of our teachers is visible in every single one of their lessons, and students come to the College as the teachers' reputations spread locally by word-of-mouth.
Our teachers are all subject-specialists, united by a passion for participatory and engaging learning. The benefits to our students are unmistakable, and the improvement in grade performance among our students is significant year on year.
Our Facilities: A Modern Environment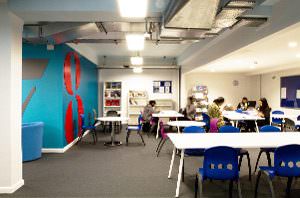 The College occupies the ground floor and first four floors of a building directly on the High Street, with an additional, newly renovated annexe on the ground floor. The new premises, called "Lab8", are at the heart of the College and offer a modern and spacious environment. The opening of Lab8 doubled the size of our existing campus. The design is innovative, forward-thinking, and ambitious. It provides 8 new classrooms and includes a new science laboratory, a popular silent study area, the Principal's study, a medical room, and an ICT suite.
Lab8 allows the College to grow whilst keeping the average class size to 10 pupils. Our strong bias towards the sciences is facilitated by the new, well-equipped teaching lab. Furthermore, the large communal space allows for lectures, talks, and open events, which happen throughout the year at the College.
Enrolment
Places at Acorn House are offered on the basis of an interview with the Principal. If you would like to arrange an interview, please get in touch with the admin team here (link info@acornhousecollege.com), or call the College under 020 8571 9900. If you would like to arrange a tour of the College, this is also possible by contacting the admin team.
We are looking forward to seeing you at Acorn House College!