Each year CIFE awards prizes to students who have done exceptionally well. 36 prizes were awarded in 2015 across all CIFE colleges, so we were really proud to see MPW London students picking up 9 awards this year – our best ever haul! The picture at the foot of this article was taken on the terrace of the House of Lords, where the awards ceremony took place.
Three students won CIFE awards for Humanities and English :
Isabella Martinez-Sistac Orozco
Nicholas Rothwell joined MPW in October 2011, having previously attended Bradfield College. He completed both his GCSEs and his A Levels, leaving with grades A*AA in Religious Studies, English and Film Studies. He is currently at Edinburgh University studying English and Philosophy.
Katharine Sloane joined MPW from Aylesbury School to complete the second year of her A level course in English, History and Politics. She achieved grades AAA* and won a place to read English at the University of Leeds.
Qingyan Zhang won an Andrew Osmond Maths award. She joined MPW from China for our two-year A level course in Mathematics, Further Mathematics, Physics and Economics. She achieved grades A*A*A*A, including Mathematics a year early, and maximum marks in six Mathematics units and two Physics units. Qingyan won a place to read Economics at Sidney Sussex College, Cambridge.
Zoe Tan won a CIFE award for Social Sciences. Zoe joined MPW in January 2013 in order to follow an 18 month A Level programme. She took all four subjects to A2 and achieved grades A*A*AA in Mathematics, Economics, Chemistry and History. She is currently studying Law at the London School of Economics and Political Science.
Alice Carter-Pegg gained a CIFE Value Added award. Alice joined MPW from Woldingham School, where she had achieved grades BDD in Economics, Mathematics and Physics. She took our intensive, short retake courses in all three A level subjects and achieved grades A*AA. Alice won a place to read Accounting and Finance at the University of East Anglia.
Mathilda Wood received the CIFE award for GCSE. She joined MPW from Sunrise Academy and took nine subjects over one year, achieving grades A*A*A*A*A*A*AAA. She is currently in her lower-sixth year at Harris Academy, Westminster.
Tuan Truong Van Nguyen received the Baroness Perry Award. She joined MPW from Churchlands School for our 18-month A level course in Economics, History of Art, Mathematics and Philosophy. She achieved grades A*A*AA and won a place to read Management at the London School of Economics.

And last but not least, Tommy Moore received the MPW college prize. Tommy joined MPW's Year 10 in March 2013 from a school in South Africa. Despite recent illness, he worked hard both in and out of the classroom. He won the Waitrose Good Food Guide Critic competition and the Young Food Writer of the Year award. In his first year he joined the college's Student Council and also took a significant role in the college drama production of "Teechers" followed in the second year with a stint as Chair of the Student Council where he was a real galvanising force in the charity initiative for MS UK. On top of all that, Tommy is one of our lead mentors for incoming international students.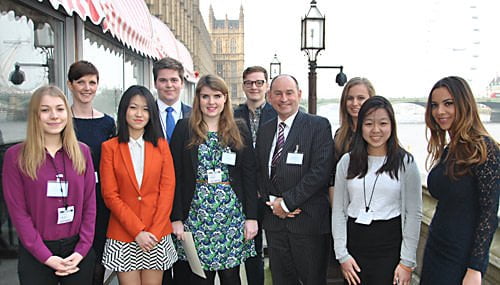 Pictured above from the left are: Mathilda Wood, unknown, Tuan Van Nguyen, Tommy Moore, Alice Carter-Pegg, Nicholas Rothwell, John Southworth (MPW Vice Principal), Katharine Sloane, Zoe Tan and Isabella Orozco.