Article in summary
The article describes the 2018 CIFE awards ceremony at the House of Lords, at which CIFE President, Lord Lexden presented prizes to 41 high achievers from CIFE colleges.
Article in detail
At the annual CIFE Academic Awards Ceremony held at the House of Lords on Wednesday, 18th April, Lord Lexden presented awards for academic excellence to forty-one students who achieved remarkable A-level and GCSE results last summer. The recipients - some British, some from overseas - were warmly applauded at the presentation, all having studied at sixth-form colleges belonging to the Council for Independent Education (CIFE), of which Alistair Lexden is President.
The top prize, the CIFE Gold Award, was won by Howard Xu from China, a student at MPW College, Birmingham, who had obtained A* grades in Mathematics, Further Mathematics, Additional Further Mathematics, Physics and Chemistry. He told us: "I am delighted to have received the CIFE Gold Award at the House of Lords. I am very surprised and never expected to gain this honour. I would like to thank all my teachers at MPW and my parents who have always believed in me. I love mathematics and I love studying in England. Eventually I hope to teach Mathematics at university and to carry out research that will take our understanding of the subject further." Howard is now studying Mathematics at Oxford University.
Lord Lexden said: "This event recognises and celebrates tremendous academic achievement in our national exams by students from all over the world. It is an important acknowledgement of the success not only of the pupils themselves, but also of their teachers, and of their families who entrust their children to our independent sixth-form colleges. At a time of worrying uncertainty about Britain's future created by Brexit, CIFE and its member colleges will continue to spread the message at home and especially abroad that they intend to play a full part in maintaining our world-class reputation for scholarship and in welcoming international students to the UK, as they have always done."
The 2018 CIFE awards ceremony was supported by Double First and by Wesleyan Financial Services, both sponsors of the work CIFE colleges do.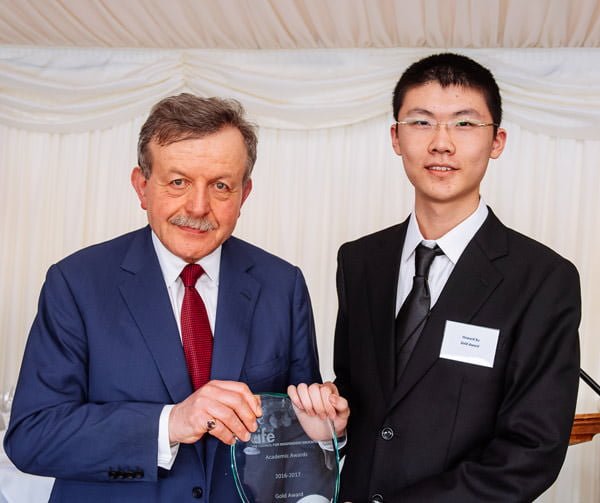 Lord Lexden presents the 2018 CIFE Gold Award to Howard Xu
CIFE Academic Awards
The individual winners are listed below.
CIFE Gold Award
Howard Xu (MPW Birmingham)
CIFE awards for Sciences
Jamie Gerstein (Ashbourne Sixth Form College)
David Robson (Cambridge Centre for Sixth-form Studies)
Phitawat Namnouad (Oxford Tutorial College)
CIFE Andrew Osmond Maths awards
Vivian (Bohan) Zhang (DLD College)
Zihao Su (MPW London)
Jiazheng (Dean) Zhu (Ashbourne Sixth Form College)
CIFE award for Economics
Rosemond Tan (MPW Birmingham)
CIFE awards for Humanities
Nathaniel Jenkins (MPW London)
Lucy Robb (Collingham College)
Bb Prendiville (MPW London)
Albert Maguire-King (MPW London)
CIFE award for Visual and Creative Arts
Jinlin Fang (Ellen) (MPW London)
CIFE award for Languages
Giorgio Piano (MPW London)
CIFE award for Social Sciences
Gaya Ramanathan (MPW Birmingham)
CIFE Value Added awards
Harris Barr (Collingham College)
Lucy Brosch (Bath Academy)
CIFE award for GCSE
Darin Hansakul (Bosworth Independent College)
Paul Kitchener Memorial Award
Piero Rubini Cansino (Bath Academy)
Baroness Perry Award
Sam Stark (Cambridge Centre for Sixth-form Studies)
CIFE College Awards
Acorn House College Ayesha Iqbal
Ashbourne College Melissa Chekera
Bales College Mohammed Blaaza
Bath Academy Thomas Lewin
Bosworth Independent College Gary Abbass
Brooke House Duyen Ky Cao (Jenny) and Hai Vu Quach (Jonny)
Cambridge Centre for Sixth-Form Studies Chanheum (Alex) Lah
Cambridge Tutors College Darrell Lee
Carfax College Sam Abrahams
CATS College Cambridge Ziwen Liu (Arno)
CATS College London Husam Zergani
Chelsea Independent College Enxhi Sharxhi
Cherwell College Wenxi Zhang
Collingham College Agnes Wilhelmsen
DLD College Vasily Rublev
MPW Birmingham Chris Moran
MPW London Scarlett Murray
Oxford International College Yee Kei Lam (Kate)
Oxford Tutorial College Chattawat Thangsrikeattigun
Regent College Osamu Allman