Article in summary
The article describes the 2016 CIFE awards ceremony at the House of Lords, and lists the individual award winners.
Article in detail
At the annual CIFE Academic Awards Ceremony held at the House of Lords on Thursday, 7th  April, Lord Lexden presented thirty-nine awards for academic excellence to students who achieved remarkable A-level and GCSE results last summer.  The recipients - some British, some from overseas - were warmly applauded at the presentation, all having studied at sixth-form colleges belonging to the Council for Independent Education (CIFE), of which Alistair Lexden is President. The award-winners typically average 95% + scores in all their A-level exams.
The CIFE Gold Award, the top prize, went to Vu Thao Dan, known as Ariadne, from Vietnam, a student at Bosworth Independent College in Northampton, who had obtained A* grades in History, Sociology, Economics and Mathematics, along with other international distinctions.  She told us: "I was surprised and delighted to receive a CIFE Academic Award and to discover it was the Gold Award was humbling.  All of the other award winners have done so well and I feel very proud to be in their company at the House of Lords.  I thoroughly enjoyed studying at Bosworth where the teachers and other staff always inspired me to do my very best and to keep up my other interests too.  I felt cared for, as if part of a big family."  Ariadne is now studying Law at Durham University.
Lord Lexden said: "Year after year statistics produced by leading international organizations show that our independent schools and colleges provide an education that ranks among the best in the world.  No wonder families here and abroad are so keen to send their children to CIFE's successful member colleges.  Their outstanding A-level results prove once again that they have fulfilled the trust placed in them.  Their mingling of great talents and different cultures enrich our country and other nations"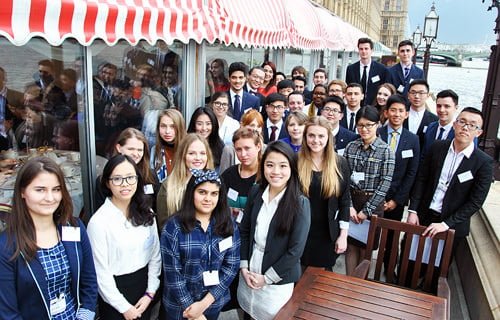 2016 CIFE Award winners are pictured above on the House of Lords terrace.
CIFE Academic Awards
The individual winners are listed below. Check news items on college pages for details of each student's achievements.
CIFE Gold Award
This is the top award, and was won by Vu Thao Dan (Ariadne) (Bosworth College)
CIFE awards for Sciences
Cheuk Ying Karen Ho (CATS College London)
Youssef Ahmed (Bosworth Independent College)
CIFE Andrew Osmond Maths awards
Xinghao Cheng (Cambridge Tutors College)
Carlos Limpo (Cambridge Tutors College)
Vo Hung Huu (Brooke House College)
CIFE awards for Economics
Yan Yin Lim (Cambridge Tutors College)
Gaia Maddalena Racca (DLD College)
CIFE awards for Humanities
History of Art: Jing Jing Fong (Joyce) (MPW London)
Geography: Coco Huggins (MPW London)
English: Alexander Thanki (Collingham College)
Government & Politics:  Harry Stebbings (MPW London)
CIFE award for Visual and Creative Arts
Lidia Makarova (Ashbourne College)
CIFE award for Languages
Stephanie Childress (Collingham College)
CIFE award for Social Sciences
Alexandra Reid (DLD College)
CIFE Value Added awards
Ali Shakarchy (MPW Birmingham)
Georgia Jeffrey (Bosworth Independent College)
CIFE award for GCSE
Corey Markie (Bosworth Independent College)
Paul Kitchener Memorial Award
Nadine Tangie (MPW London)
Baroness Perry Award
Jin Zheng (Bosworth Independent College)
CIFE College Awards
Ashbourne College Nicola Brownless
Bales College Lilly Connolly
Bath Academy Henry Gould
Bosworth Independent College Chong Li Ying (Camilla)
Brooke House College  Dan Ning
Cambridge Centre for Sixth-Form Studies Ciara Ward
Cambridge Tutors College  Carlos Limpo
Carfax College Huaqing Hong
CATS College London Bruno Soares
Chelsea Independent College Zhelong Zhang (Jero)
Collingham College Willem Nelis
DLD College   Evelina Polyakov
Duff Miller College  Alice Hart
Lansdowne College   JiHo Park
MPW Birmingham Alex Moran
MPW London Freddy Champion
Oxford International College Rafael Peters
Oxford Tutorial College Mary Gompertz
Regent College  Shaina Haria