Article in summary
The article describes the CIFE awards 2012, how Academic and College Award winners are chosen, the awards ceremony proceedings, and the individual 2012 award winners' achievements and backgrounds.
Article in detail
At the annual CIFE Academic Awards Presentation held at the House of Lords on Monday 19th March 2012, Baroness Perry of Southwark presented awards for excellence to more than thirty CIFE college students. 18 students received CIFE Academic Awards for outstanding A-level results, one for GCSE and one for Foundation courses. Competition for Awards is fierce: perfect module scores and national ranking exam performance are usually needed!
An additional 13 students received College Awards. Individual CIFE colleges can make an award to the student whose all-round contribution to college life has been exceptional.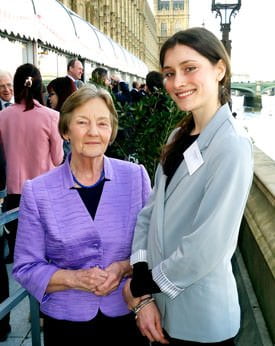 The Gold Award winner, Poppy Waskett, an A-level student at Lansdowne College, overcame three years of ill health to achieve three A*s after only one year's study. She is now reading Experimental Psychology at Oxford University. She said: "I was lucky to have a lot of people around me to encourage me (and remind me when I needed a break!): my teachers, my friends and my mum. My January results were an important foundation, not just for my marks but for my confidence. When I faced the exams in June, I was in the more comfortable position of having a bit of faith that I could obtain the results I needed to fulfil the conditions of my Oxford offer.". Poppy is pictured with Baroness Perry.
Baroness Perry, former Chief Inspector of Schools, is the Honorary President of the Council For Independent Education (CIFE). She said: "It is a great pleasure to celebrate the wonderful achievement not only of these outstanding young people, but also their parents for supporting them, and all their teachers and colleges. They have achieved astonishingly good results and my congratulations go to them all."
The CIFE Awards Ceremony is kindly sponsored by 360 AdsFab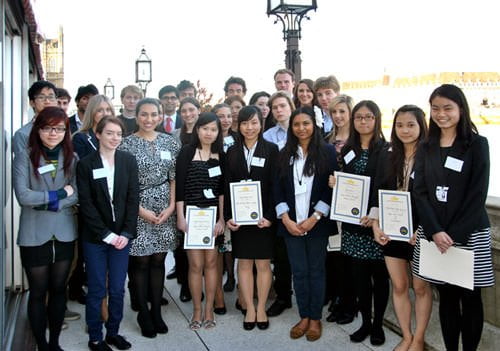 The 2012 CIFE Award winners are pictured above.
CIFE Academic Awards
CIFE Gold Award,
This, the top honour, went to Poppy Waskett, of Lansdowne College.
Paul Kitchener Memorial Foundation Course Award
Viktoria Löffler (Bath Academy)
CIFE Award for GCSE
David Hallam (MPW London)
CIFE Award for Economics
Thi Thai Ha Nguyen (Cambridge Tutors College)
CIFE Awards for Humanities and English
Maximilian Wagner (Collingham)
Raweewat Ruechai (Cambridge Tutors College)
Edmund Speaight (MPW London)
CIFE Award for Languages
Sidharth Prabhu-Naik (Lansdowne)
CIFE Awards for Sciences
William Wadman (MPW London)
Hiu Man Lau (Cambridge Tutors College)
Sher Ee Tan (Cambridge Tutors College)
CIFE Awards for Visual and Creative Arts
Katie-Ann McGuigan (MPW London)
Giles Howdle (Collingham)
CIFE Andrew Osmond Maths Awards
Yiyi Yan (Chelsea Independent College)
Watcharaphol Paritmongkol (Cambridge Tutors College)
Isarapong Eksinchol (Cambridge Centre for Sixth-form Studies)
Nguyen Lan Phuong (Brooke House College)
CIFE Awards for Social Sciences
Jade Ashcroft (Cambridge Centre for Sixth-form Studies)
Bao Ngoc Le (MPW London)
CIFE Value Added Award
Rizwan Chaudhry (MPW London)
CIFE College Awards
Ashbourne Independent Sixth Form College Victoria Pasion
Bath Academy Anastasia Richmond
Brooke House College Bui Thi Phuong Hong (Kelly)
Cambridge Centre for Sixth Form Studies Elizabeth Wark
Cambridge Tutors College Adeline Lou Yi Wei
Chelsea Independent College Jasmine Taher
Collingham Paul Linshits
DLD College Ming Chen
Duff Miller Sixth Form College Henry Asson
Lansdowne College Elizabeth Marshall
MPW Birmingham Kelly Wilkinson
MPW London Yusuf Blunt
Oxford Tutorial College Jessica Hill