We're delighted to report that OSFC student Hugh Squire has received a CIFE college prize from CIFE President Lord Lexden in a ceremony at the House of Lords ealier this year.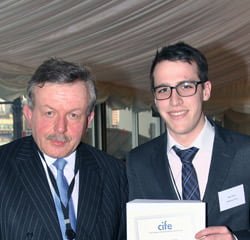 Hugh joined Oxford Sixth Form College in late November 2012, having previously begun a degree in Mathematics at Portsmouth University. With a background in music and theatre, Hugh decided to change course and pursue a career in the arts, so took on English Literature A-Level for the first time halfway through the academic year.
Hugh's exceptional hard work, both in and outside of the classroom, his dedication and his passion for the subject enabled him to complete the two-year course in only six months and to gain an A grade. He is now studying English and Drama at Cardiff Metropolitan University.