We are delighted to report that Karabo Sankoloba received a 2017 CIFE Award this April for his exceptional contribution to life at DLD. He received the award from CIFE President Lord Lexden at a ceremony in the House of Lords.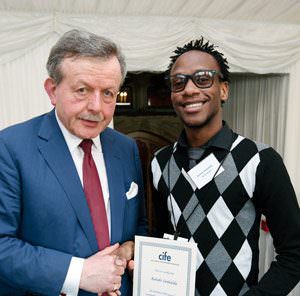 Karabo gained GCSE results which placed him in the top ten candidates in Botswana and a well-deserved scholarship brought him to study in the UK at DLD. Karabo proved to be an exceptional student in all his subjects and a great asset to the DLD community, a real breath of fresh air.
With a remarkable track record of 100% in five Maths modules in Year 12, Karabo has all the hallmarks of an outstanding mathematician. His A level grades of A* in Maths, Further Maths and Physics, and grade A in both Chemistry and Economics fully illustrate his academic ability and huge potential.
Karabo managed his academic commitments whilst making a generous contribution to college life. He had a great sense of fun, employing his musical ability in the ukulele and vocal groups, and all college functions. His well-developed people skills made him a clear choice for student ambassador and a popular College Valedictorian.