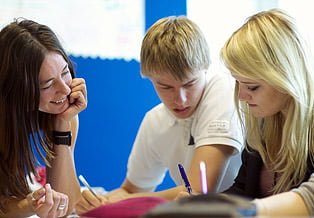 Principal:
Mr Irfan Latif BSc (Hons) PGCE FRSA FRSC
Address:
199 Westminster Bridge Road
London
SE1 7FX
Tel:
(020) 7935 8411
Latest College News
Click + for details
Warm Welcome
"DLD is an awesome college, it is one of the best in London. I found it surprisingly easy to settle into college life as everyone is friendly, supportive and easy to approach." Karabo Sankoloba current DLD student.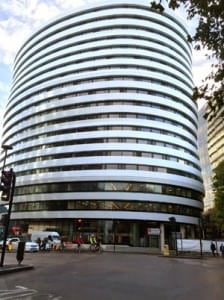 DLD College London is the oldest and one of the most prestigious colleges in the UK, which, since its foundation in 1931 has built a strong academic reputation among students, parents, schools and universities. DLD operates from a brand new, purpose built campus in the centre of London, overlooking the River Thames to the Houses of Parliament. With bright, state of the art teaching facilities, and safe, on-site boarding facilities for our students, all in the centre of the amazing, historic and vibrant city of London.
DLD College London is a unique college campus with facilities including:
55 classrooms – 60 touch screens.
70 seat theatre with state of the art LED lighting . The theatre is also equipped with a cinema screen and surround sound.
Two 1st floor music rooms fully equipped with the latest iMacs and software, a studio complex in the basement with three rooms. The music technology lab comprises state of the art iMac computers with the latest versions of Logic and Sibelius software on them, In addition we have three practice rooms equipped with a top end acoustic and digital pianos as well as a drum kit.
Three art studios, graphic suite and a photography studio and classrooms.
Separate laboratories for Biology, Chemistry and Physics equipped with interactive touch screens.
Four dedicated learning zones with quiet booths and water fountains.
Learning centre equipped with state of the art technology.
Under 16's Study areas equipped with computers (supervised) and open space learning.
5 private tuition rooms for one on one learning.
The Refectory provides a multifunctional space for eating , studying and socialising, and has a mixture of long bench style tables and booths. In addition, students also have access to a Starbucks Café from 8am.
Atrium with film projectors and surround sound.
Gallery with seating for student group work.
College nurse with onsite medical facilities.
Students under the age of 16 can access a dedicated terrace on the third floor of the College. All students can benefit from an enclosed, safe and secure landscaped garden area just outside the College.
Special Place
"The College was very accommodating and I found it easy to settle in. Subjects were tailored and personalised to suit each student's needs. The best thing about DLD was the relaxed and laidback environment. You are taught to use your own initiative and work independently which helped me to prepare for university." Anna Shimwell graduated in 2015.
DLD differs from conventional schools in a number of important respects. Students do not wear uniform and are on first-name terms with their tutors. We believe that students are never so likely to really benefit from the efforts of their tutors as when they feel that they are part of a community, and that the best way to achieve this is to create an atmosphere of mutual respect. In other words, our policy is to treat students as young adults.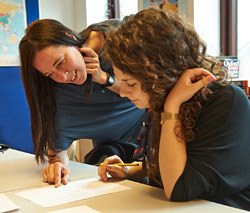 High Level of Pastoral Care
"DLD has exceptional pastoral care and a strong desire to help students achieve academically. The staff here are kind, hardworking and will try to assist you wherever possible." Keletso Mightly Lebitla current DLD student.
We have a strong pastoral system. There is a lot of respect because students know we care about them. A register is taken in every lesson and parents are kept in close touch by text or email. Each student has a weekly meeting with their personal tutor to talk about progress and future plans and the College has five directors of studies working closely with the personal tutors.
Boarding
DLD College provides rooms for our students in our private boarding house located directly above our college premises. The boarding house contains 15 floors, divided by gender, with over 200 rooms. Each room provides the student with a bed, study space, storage, and a washroom. A small number of twin rooms allow two students to share a room and wash room whilst still providing each student with their own bed, study space, and storage. Boarders take meals with staff in the college Refectory; breakfast, lunch, and dinner are prepared and served every day and students also have access to a Starbucks Café where they can buy hot drinks and snacks.
Common rooms are located on each floor of the boarding house for the use of boarders on that floor. Common rooms contain a kitchenette where boarders can store and prepare their own drinks and snacks, comfortable seating, and a large table and chairs for group studying. Boarders are supervised by our team of live-in Houseparents, Houseparents provide support to boarders, oversee the running of the laundry and cleaning services, and liaise with college staff and the nurse to ensure the health and well being of the boarders.
Enrichment Programme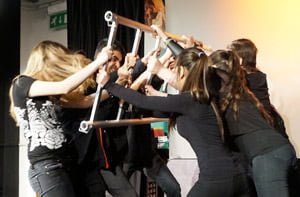 We offer an extensive range of extra-curricular activities, which include many traditional options such as Sport, Music, Drama and Art. Our wide enrichment programme supports our academic curriculum and forms an integral part of the wider education and college experience we offer our students. Our vision is to create all-rounded students, who excel academically and develop further their emotional, inter-personal and social skills.
All students are encouraged to participate in one or more of our range of extra-curricular activities. This participation is important for students both as an opportunity for recreation and as an effective way to improve the quality of their UCAS personal statement and CV in the future.
Find out more
For further information or to arrange a visit to the college, please contact the Registrar, Clare Metcalfe, on 0207 935 8411.